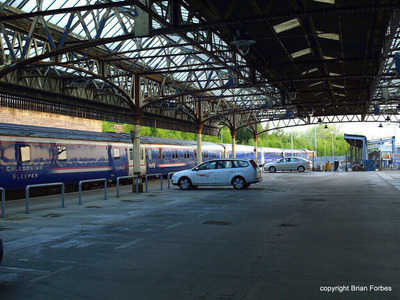 Is there a more iconically British way to travel than a slow sleeper train? Just the idea immediately brings to mind a luxurious and opulent Orient Express leisurely winding its way through the countryside in style. Of course, the modern day reality is slightly less glamourous, but there's a chance that might be changing soon.

Ian Smith Design, the Edinburgh based firm and one of Scotland's leading interior design companies, will be managing a complete redesign as part of an investment to launch a new and improved Caledonian Sleeper service. The overnight train that runs from Edinburgh to London Euston station will be overhauled with the new carriages unveiled in 2018.

Personally, here at Sliding Door Wardrobe, we think the redesign of the Caledonian Sleeper is sorely needed. Rather than revelling in modern comfort or the increasingly rare luxury to enjoy a slower pace when travelling, the interior of the train is a relic from the nineties. Dull, muted colours are everywhere with cold, hard angles and nothing escapes a coating of carpet. Luckily, it sounds like the people behind the project agree with us. The Transport Minister, Derek Mackay, has said:

This iconic rail service will join some of Scotland's top hospitality brands in Ian's portfolio and the deal is real evidence of the ambition for the service to go beyond being simply a train journey and offer a real experience of the essence of Scotland.

It would be fantastic to make the Caledonian Sleeper reach theses heights again and feel like an event and part of Scotland as it should be. There's certainly no expense being spared with over £100 million being invested in producing the new carriages.

Ian Smith Design has worked on some amazing projects in the past. Their most famous project was for tennis star Andy Murray's five star luxury hotel Cromlix in Scotland. Other experiences in the hospitality industry include Edinburgh restaurant The Honours, beautifully designed with a simple, clear style and the playful juxtaposition of bold colours. We would love to see this mix of classic and modern brought to the Caledonian Sleeper, marrying a rich history with modern sensibility as with the Cromlix project. We will be very excited to see the new carriages when they are unveiled in 2018.