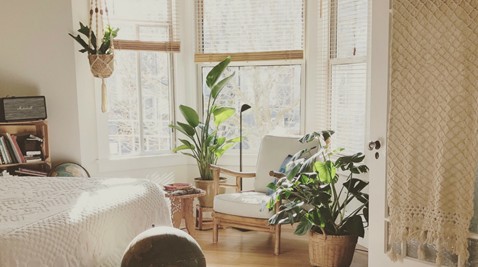 2018 is a year of change, but one design trend that has remained consistent over the past few years is the idea of incorporating natural materials within the home. As sustainability and eco-friendliness grow in importance, so too does the desire to create more natural-feeling spaces. Bringing the outside in creates a space that feels more alive, which is perfect for creating a home that creates a wonderful sense of wellbeing.
How do you accomplish natural design in a bedroom? Here are some tips for making things a little more organic.
Let in the light
Few things bring out the 'natural' side of a room like a bedroom flooded with natural light. A good amount of light helps to 'open up' the room, making it appear larger. Natural light also has a positive effect on your mood, so is essential in a bedroom. Rid yourself of heavy curtains and maximise window space. Consider skylights when possible. As a cheap fix, add a mirror into the room to help bounce natural light around and make the space seem larger.
Also consider repainting the room with lighter, more natural tones. Pastels and whites help to create a lighter feel to any space – especially useful when you're trying to mimic the airiness of outdoor spaces.
Use natural materials
Select natural materials that you like the look of. Even brick is natural, made from a combination of mud, clay and water, so feel free to choose from a range of materials you'd see outside. Focus on ones that make you feel at peace, then bring them into the bedroom. For example, you could combine an exposed brick wall with a wooden bedframe and wooden flooring, then offset the brick with textile coverings on furniture. Use a wooden wardrobe to keep clutter at a minimum whilst maintaining the natural aesthetic.
Another great addition to a naturally-styled room is to add in pieces of reclaimed wood, pallet furniture or other recycled materials – which are not only inexpensive, but help create a room that immediately feels more eco-friendly.
Put relaxation first
A natural bedroom is all about creating a feeling of 'zen.' Relaxation and comfort should be priorities – so spend time choosing the correct bed and mattress, and bring in plenty of throw rugs and blankets. You don't want to over-clutter, but it should be a space that immediately promises comfort when you enter it.
Plants, plants, plants!
House plants, quite literally, bring the outside in. Because they're in your bedroom, you will need to opt for relatively low maintenance plants that can withstand varying temperatures and also don't take up too much space. Some plants can even have a positive effect on your sleeping patterns, such as Jasmine, Lavender, Aloe Vera and Spider Plants.