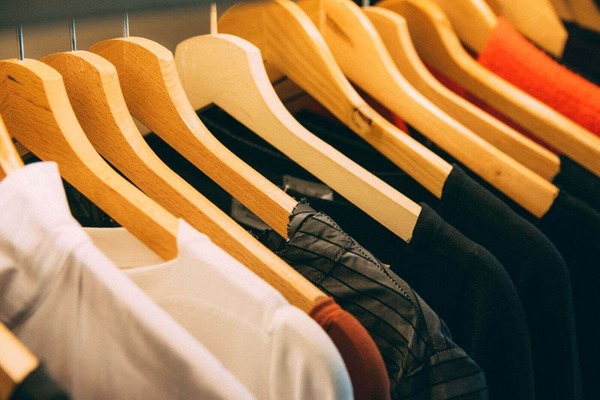 Equally as important to choosing the exterior design of your wardrobe is selecting a wardrobe interior which you will be happy with. There are many design factors to take into consideration here, from your storage needs to aesthetics – read on for our sliding door wardrobe guide on choosing a wardrobe interior.
Which material for your interior?
Choosing the correct material for your wardrobe interior is an important design choice – you want your wardrobe interior to complement the outside of your wardrobe. For darker wood exteriors and more traditional style wardrobes, materials such as white ivory wood can provide a contrast whilst maintaining the elegance of your wardrobe design. For more modern wardrobe exteriors which use paler woods and brighter materials such as mirrored finishes, a slightly darker colour on the interior can be a great look. Choose woods such as Birch, Maple and Walnut for these wardrobes – the difference in colour will help differentiate between the interior and exterior of your wardrobe without contrasting so much as to be disconcerting. Our wardrobe interior designer allows you to preview 17 different material choices to let you select the one which is right for you.
How might your clothing choices influence your wardrobe interior?
Your clothing choices will dictate the needs of your wardrobe interior when it comes to storage considerations. For example, if you wear a lot of formal suits, dresses and other clothes which are prone to becoming crumpled, you will likely want an interior with a lot of clothing rail space. However, if your wardrobe is made up of clothes which can more easily be folded, such as t-shirts and jeans, then a wardrobe interior with more shelf and drawer space may be a more efficient use of space. If you have a sock collection, wardrobe interior drawers can also help you keep your wardrobe tidy. Our wide range of interior options are sure to have the option which suits your clothing needs best.
What else might you be storing?
Your wardrobe doesn't just have to be a storage space for clothes. If you need storage for shoes, cosmetics, jewellery and more, your wardrobe can provide a valuable space for safe and organised storage of these items. If you're intending on storing additional items in your wardrobe, we recommend choosing a wardrobe interior with additional shelf space and then organising smaller items on these shelves using small cosmetic drawers or a similar storage solution.
How might your needs change in the future?
In addition to accounting for your current storage needs when choosing your wardrobe, it's worth taking into consideration any foreseeable changes to your needs in the future. For example, if you're thinking of updating your clothing selection with some new choices, it may be worth choosing a wardrobe which can adapt to these changes. Or if you're planning on starting a shoe collection, perhaps allow some extra shelving space when choosing your wardrobe interior.
Now that you have some ideas of what you want for your wardrobe interior, head to our wardrobe interior designer and get started on designing your wardrobe interior! If you have any questions or would like to speak to a member of our staff about our wardrobes, call us today on 0191 487 5870.