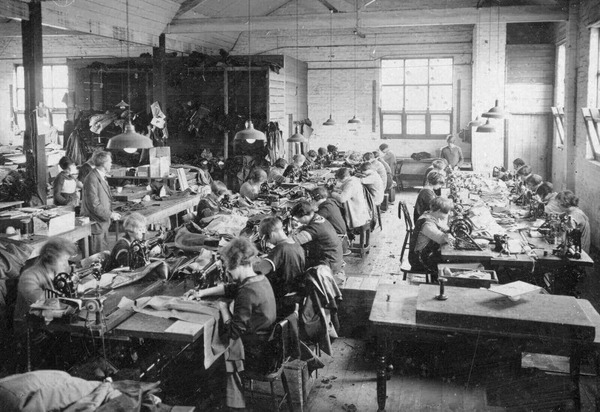 Fast fashion sales have been on the rise for a while, but with the pandemic causing more people to turn online to get their fashion fix.
While fast fashion offers a quick solution, the long term fallout impacts everything from our bank balance to the space in our homes, to working conditions of retail workers to the environment.
Read on to find out more about fast fashion's impact on our shrinking bedrooms.
Key Findings
● Brits spend £700 million a year on single-use holiday clothes
● We spend £800 million on single-use wedding outfits, with an average of £80 per outfit
● Fast fashion accounts for 10% of carbon emissions
● One pair of jeans creates an average of 2,000 gallons of water waste
● Our bedroom space has been shrinking since 1930s, with us now having 2% less space
● The average cost per square metre has increased by 19% in 5 years.
● The average price of a home is £255,000 in England.
Single-Use Outfits
A study from Barnardo's found that Brits now spend £700 million a year on single-use holiday clothes and £800 million on single-use wedding outfits, with an average £80 spent on an outfit.
In fact, over a third of millennials now buy and wear clothing in a form of returns fraud known as 'wardrobing' or 'snap and send back'.
According to ONS in August 2020, retail sales volumes increased by 0.8% when compared with July; the fourth consecutive month of growth, resulting in an increase of 4.0% when compared with February's pre-pandemic level.
Online retail sales fell by 2.5% in August when compared with July, but the strong growth experienced over the pandemic has meant that sales were still 46.8% higher than February's pre-pandemic levels.
The True Cost of Fast Fashion
Research shows that fast fashion accounts for 10% of carbon emissions. In fact, clothing manufacture is the second-largest consumer of water globally with one pair of jeans creating an average of 2,000 gallons of water waste.
Fast fashion has become a hot topic of late thanks to brands like Boohoo and Missguided and the Channel 4 show that portrayed them as heroes in the fashion industry, when in fact they are part of the problem.
With the UK currently in the midst of another recession excessive spending on single-use clothing is only going to cause issues when it comes to storage at a time when many are confined to their homes.
People simply don't have space for this increased clothing habit, especially with the average house size reducing. A more sustainable solution is to have a few staple clothing items that can be swapped around to make alternative outfits.
UK Homes Are Running Out Of Space
The UK is not only running out of houses, we are also running out of space. The UK Government estimated it would take 3 million new homes over the next 20 years in order to fulfil our housing deficit – but with each decade of housebuilding, the homes we build are growing smaller. Our study found that homebuyers are enjoying less space in their new home than ever before.
Our Bedrooms Are Shrinking
Our bedrooms have been slowly shrinking since the 1930s. While the master bedroom increased in the 1950s, 1960s and 1990s the general theme across the years is less space for you and your ever-expanding wardrobe.
Here's how master bedrooms sizes compare now to eighty years ago:
● 1930 average master bedroom size: 15.34m²
● 1940s: 13.74m² – decrease of 10.43 per cent
● 1950s: 14.49m² – increase of 5.46 per cent
● 1960s: 15.05m² – increase of 3.86 per cent
● 1970s: 14.71m² – decrease of 2.26 per cent
● 1980s: 13.93m² – decrease of 5.30 per cent
● 1990s: 13.95m² – increase of 0.01 per cent
● 2000s: 13.64m² – decrease of 2.22 per cent
● 2010s: 13.37m² – decrease of 1.98 per cent
While the first half of 2019 saw the highest number of new homes being completed for four years, these homes are significantly smaller than those built in the 60's, 70's, 80's etc. In addition, we are also paying more for less – the average cost per square metre according to new analysis by Rightmove is the average asking price per square metre of a house in England and Wales is £2,954, up 19% (£2,487) compared with five years ago
In terms of space, homes are definitely getting smaller. Take the master bedroom, for example, which is the space you likely spend the most amount of hours in per week during sleep. Over the years, space has decreased 12.84% from a 1930's high of 15.34m2 down to 13.37m2.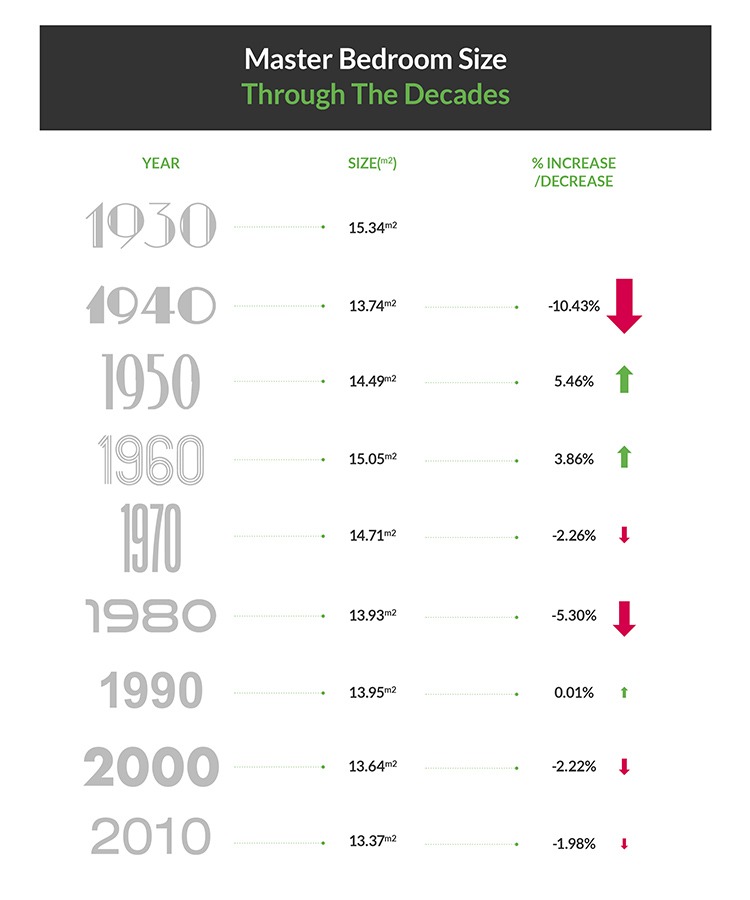 We Pay Much More For Far Less
All of this essentially means that in England, we now pay an average of £255,000 for a home containing a master bedroom that is 12.84% smaller than 1930's bedrooms which were 86% less expensive than modern properties. However, you could get more for your money in Wales with an average house price of £170,000, Scotland with £155,000 and Northern Ireland at £141,000.
As we run out of space in our homes, the importance of storage becomes clear – only by using clever space-saving techniques such as built-in wardrobes and underbed storage can you ensure your usable space is unobstructed. As UK homeowners are forced to make do with less, keeping clutter to a minimum has now become essential.
Clever Clothing Solutions
The average master bedroom is 13.37m squared. This means on average the wardrobe is taking 8.3% of the room space.
According to the Sliding Door Wardrobe Company the average wardrobe sold is 6ft by 6ft by 2 ft. Taking up only 8.2% of the room space providing a more efficient way to store your clothing.