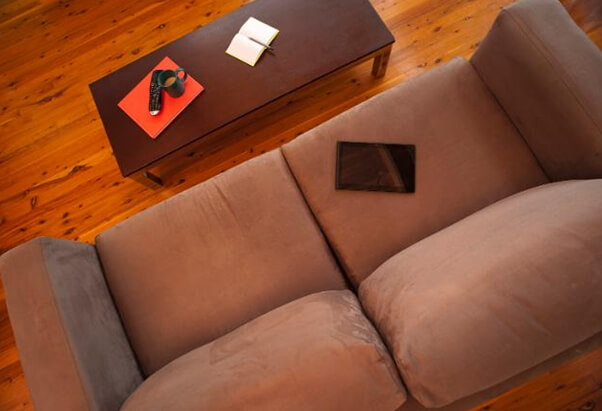 Modern living comes with a lot of baggage and keeping your home clutter-free can often seem like an impossible task. While we can't help you clear out the clutter – that's up to you – our design ideas for small living rooms can help you make even the tightest spaces look fantastic.


Compact Furniture
It might seem obvious, but we should start with the basic physics – if you have a small living room, you're going to need small furniture and the furniture you do have should, more often than not, serve a purpose. Don't worry about your home looking sparse. More often than not, small rooms look much better with fewer, carefully selected fittings. The largest piece of furniture in most living rooms is usually the sofa. An increasingly popular alternative is the loveseat. Something between an armchair and a sofa, the loveseat works perfectly when matched with a small armchair and an ottoman footstool, complete with storage space. It's also a great excuse for couples to get a bit closer! Small living rooms can also be given a sleek, modern look with longer, narrow, low furniture. Coffee tables often take up more space than required for their primary function – holding a couple of remote controls and cups of tea. Flatscreen TVs have also removed the need for deep TV stands. Isn't it about time you bought a new stand to go with your new TV?


Modular Furniture
Modular Furniture is perfect for small spaces – there when you need it, neatly stowed away when you don't. Coffee tables, footstools and TV stands with built in storage are readily available and, when used effectively, can eliminate the need for other furniture such as DVD racks and even bookcases. You can even find sofas with built in storage in the arms, upholstered blanket boxes for extra seating and a wide selection of nesting tables – always a fantastic space saving choice.


Built-In Furniture
To truly make the most of the space you have, you should consider building furniture in to the room. You can save floor space by hanging all lighting from the ceiling and removing the need for floor lamps. Something as simple as putting up a few shelves to replace side tables can also save space without the need to clear out all your ornaments. More drastic fitted furniture options can create even more space. Make the most of alcoves by shelving them out from floor to ceiling, or, if you want to hide your belongings, fit a sliding door wardrobe across a narrow wall in your living room. The added benefit of living room sliding door wardrobes is that they can be tailored to match you personal storage requirements; many include space to hide the TV, creating a striking clean and clutter-free look. While much lost space is often above your head, every living room is different and there are other areas of lost space that can be tackled with fitted furniture. The space next to bay windows, for example, can be converted in to window seating, which often includes a significant amount of built in storage.


Glass, Mirrors, Colours and Stripes
Transparent furniture pieces not only look great, they can seem to disappear in a room and create the illusion of extra space. For this reason, glass furniture and acrylic furniture is often an excellent choice for small living rooms. Glass and acrylic pieces are also semi-reflective, adding light to the room and making them feel even more spacious. For this reason, we also recommend including a large mirror somewhere in your small living room design plans. This is one of the oldest design tricks in the book – but it is still as effective as it is simple. Colour can also have a big impact on how light and how spacious a room feels. White is the obvious choice, bouncing light around the room like a mirror. Or perhaps you could replace your old carpet white whitewashed floorboards - a riskier option, but a bold design statement? If you want to create a cosier environment, darker choices are more suitable – dark grey and charcoal walls are popular at the minute. Another simple trick is to use striped patterns. Vertical stripes n the walls can make a room feel taller, horizontal stripes on the floor can make a room feel wider. Unless you're feeling confident, choose one or the other, not both; too many stripes can be dizzying. You could also unusual patterns such as cloudy sky wallpaper to give your room an almost outdoor feel. Patterned wallpaper also makes a room feel taller. What interior design ideas do you utilise in your small living room? Would you consider any of the ideas mentioned above? Don't forget to share this article!