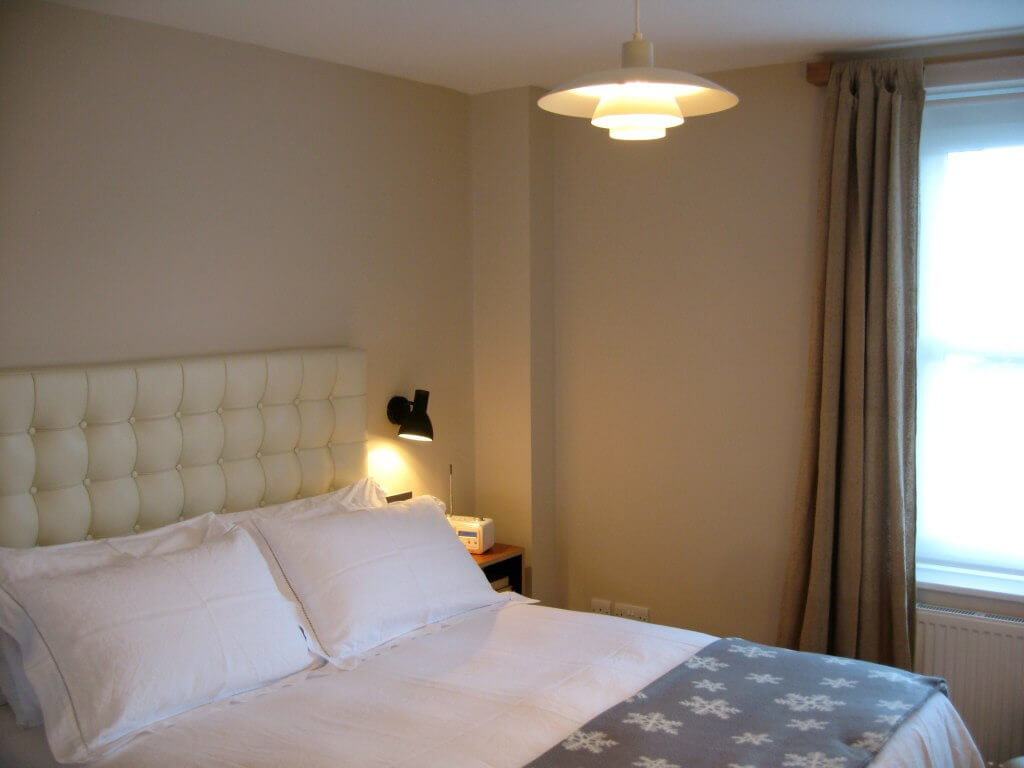 We hope you'll agree that a Sliding Door Wardrobe can be the perfect way to make the most of space available in even the smallest rooms, but what then? There is still plenty of things you can do to really make the most out of a small bedroom and create an inviting, comfortable place with a feeling of spaciousness even when space is at a premium.


Let in The Light
The key to emphasising how spacious a room feels is light, and you might be surprised at how many ways you can work with it in your bedroom.
Firstly, make sure that no light is lost through your window, use ties or hooks to pull back your curtains fully when they're open. Even if your curtains overhang at the sides by just a small amount, this can restrict the light capability of your window by a third or even a half. Secondly, although it can be tempting to use one overhead light to save space in the room, this will focus all the light in the middle, with the dark corners losing their sense of space. Instead, use a variety of desk and table lamps to throw different sources of light around the room in different locations. Finally, don't be afraid to use mirrors. Placing one or even a few mirrors around the room can create a brilliant illusion of space.


The Sky's the Limit
Another great way to improve the sense of space in your bedroom is to draw eyes upwards. There's several ways you can do this, which can also give you more physical space to store things as well as creating the impression of space.
Decorate the ceiling to begin with. Consider using wallpaper or just painting the ceiling in a way that draws attention to it rather than hides it. Anything that goes tastefully with the rest of the room will immediately make it feel as if the roof has been raised.
Now use as much vertical space as you can. A good place to start is by using raisers for your bed if it sits close to or on the floor. Not only will this raise your bed but it will unlock a treasure trove of storage space underneath as well. Also, look for thin, vertical storage units such as tall sets of drawers or shelves. This will also achieve both aims of creating both physical space and the impression of it.


Tips and Tricks
There are many little tips to bear in mind that even by themselves can transform the smallest of bedrooms. Picking your furniture carefully and selectively can make a big difference. Many items nowadays can come in designs that maximise storage, including drawers or shapes that do not take up as much space as a more traditional model might. It can also help to choose larger items of furniture that make bold statements, filling a room with character and using the space rather than cluttering it. Avoid the temptation to scatter small items everywhere. Finally, using a unified colour scheme can work wonders. White works well, but any colour that is stuck to, ideally with differing shades, will create a design that feels purposeful and well laid out, maximising the sense of space.

Did our tips work for you, and do you have any of your own?