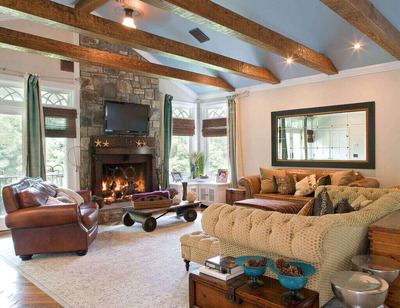 Winter is well and truly here and we're all feeling the bite of the cold months now. But it's not just central heating that you'll need to keep your home a warm refuge. Changing the interior design of your house for winter will make it an inviting place that gives you a feeling of warmth and security before you've even shut the cold out with the door behind you! Follow our tips to find out how.


Warm and Cosy
If you've got a fireplace in your home we're sure you don't need us to tell you to use it! But whether you do or not, you can still spread the warm, comforting atmosphere a fire provides all over your home by using warm colours. Try to stick within a spectrum of gold, red and orange to create a colour scheme with a strong effect. You can always add new colours to a room with simple additions. Especially in winter, extra blankets, throws, cushions and other furnishings will be very welcome.


Set the Season
There's no need to shy away from reflecting the season in your home, as it brings with it a whole new range of interior design possibilities. Instead of fresh flowers, try using dry arrangements for a different look that demands less upkeep! A few strategically placed pinecones and swapping a cushion or two for fleece pillows will also contribute to the Winter look. Finally, get a sheepskin blanket and you'll become inseparable from it. Drape it over your favourite piece of living room furniture to wrap up in and complete the look of your cosy winter den.


Keep out the Cold
After all the work you've done to create an inviting retreat from outside, the last thing you want is for the cold to seep in. Make sure to cover any non-carpeted floors, such as wood or tile, with rugs, the thicker the better. Thick curtains are also best for minimising the heat you lose through the windows while bright, colourful window dressings can make the most of light during the day. To finish, why not try a winter scent such as apple, cinnamon or pine to give things that final touch.

Hopefully our tips will help you keep your home warm this winter! Let us know if you have any advice of your own or would like to share your winter interior looks.