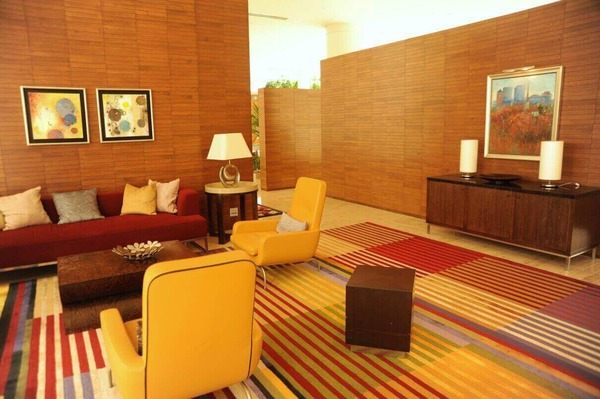 There's perhaps no feature in interior design that is easier to get wrong than stripes. Seeing the perfect way to use them in a room without slipping into overdoing it or keeping it so minimal it was barely worth bothering is a hard thing to do. However, this doesn't mean you should play it safe and leave stripes alone as they bring a great element to any home. The key is simply to remember how stripes work and what they do, which is just what we're going to do now! With these basic concepts in mind, you'll be able to use this fundamental feature of interior design without any fear at all.



Match the Space
One of the most powerful things stripes can do is change the space. They can manipulate perception to hide flaws and maximise the potential of any type of room. The main reason for this is that stripes inevitably draw the eye. Look at the picture above and notice how your eye automatically runs up the stripes along the rug. An easy way this can be used is to place a striped rug in front of a doorway or corridor to create the feeling of greater space.
Therefore, you should always use stripes to draw focus to certain parts of the room. By using this to your advantage, you can create several different kinds of effects. Wide, horizontal stripes, especially using two tones of the same colour, make a room look bigger, while thin, vertical stripes will raise the roof and make the walls look taller. Thin stripes also tend to work best in smaller spaces, where thicker stripes suit more spacious rooms. Using these effects you can make the very most out of your home and even balance out an awkwardly shaped room by using stripes to compensate.


Lines of Colour
Once you've decided the direction and size of your stripes, the most important consideration is the colour. Whatever you do, your stripes need to match the colour scheme of the room. This does not mean they have to copy it, but they should clearly work together with it. For example, a quirky room filled with an assortment of different coloured objects can be unified by stripes that reflect all those different colours. Giving your stripes a strong contrast between each other like this will also result in a more complex look full of flair.


Perfect Placement
There are numerous ways you can add stripes to a room in your house. The most obvious and powerful way is to use them on the wall, either with wallpaper or by painting them on yourself if you're feeling daring. However, you don't necessarily need to make it a design that runs throughout the room. Sometimes employing them in a certain segment and only drawing focus to one point as a result is the best way to compliment your space. A tried and tested combination is using stripes to add colour and boldness to enrich a minimalist design through careful placement.
You can also use stripes simply through furniture or adornments such as a rug or a throw. The same rules apply, and using them on this smaller, more focused scale you can add a bold new element to a room. Where's the fun in playing things safe and quiet!

Now you know everything you need to really get to grips with using stripes in your interior design. We'd love to see your work so please do send in any photos.