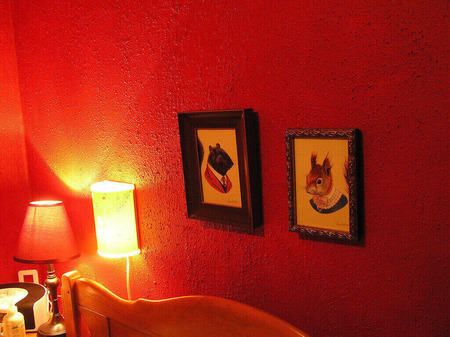 Amélie's charming and eccentric personality has captured the hearts of audiences since Amélie was first released in 2001, and her bedroom was the perfect reflection of her. It's design has become as iconic as the character herself, and many have admired and imitated it's style. Now you can too, as the Sliding Door Wardrobe Company talks you through how to recreate Amélie's distinctive design in your own bedroom.


Pretty in Red
The most striking feature you notice at once is the strong red colour scheme of the bedroom. Despite the assorted variety of different objects, furniture and decorations, they all contribute to this colour scheme, either adding a new shade or blending in neatly with the rest of the room. If you're feeling creative you could try a different colour than Amélie's iconic red, as the method is exactly the same.
Firstly, the wallpaper sets this colour scheme with a metallic-like pattern overlaid on the bold colour and the wainscoting painted to match. This pattern doesn't need to be very prominent and it should not be one that looks too neat and organised. A quirky, off-beat arrangement to everything is essential!
For furniture don't feel constrained by the colour scheme but work within it. Even Amélie's lamps have a slight red tint to the shades, but there are plenty of different, mild colours as well. Combinations like the gold trim and patterned cushions on Amélie's sofa add extra warmth to the room.
Now you have this sense of unity in the room, shake it up by adding one or two items that contrast strongly. Amélie uses vivid, electric blue lamps that draw focus and add a splash of variety to the character of the room.


Quirky Furnishings
If you pay close attention to scenes set in the bedroom, you'll notice that nearly every space seems to be filled. Every bit of shelf or counter space has an interesting ornament or object on it, but rather than simply being disorganised it looks very intentional. This is exactly Amélie's style, a sort of organised clutter, where there's a chaotic energy in plenty of interesting things filling the room, but everything has been selected with a purpose.
To achieve this effect, you need to use your imagination. Instead of generic or formulaic furnishings, browse second-hand stores, charity shops and antique sellers for anything unique to fill the room. Find a place for whatever catches your eye and fits with the colour scheme. You can see examples of this in Amélie's room with items such as the simple, classical bedframe or the adorable pig model holding the lampshade as an umbrella.
The pictures hung above Amélie's bed are two prints by Michael Sowa: Fowl with Pearls and Filmhound, but be bold and pick up any little pictures that take your fancy. Be sure to hang them in an off-beat pattern rather than anything that looks neat.
Amélie's room is also filled with light. Find as many distinctive lighting sources as you can, from little lampshades to strings of fairy-lights to spotlights pointing from corners of the ceiling, use whatever you can find. Make sure to use gentle light bulbs or shades as well so that the light does not become overbearing.
For the final touch, find a large duvet for the bed, ideally a peachy-champagne colour with a thick, quilted pattern and finish with large cushions that are a mild colour to further contrast with the colour scheme.

Follow these instructions and you'll have a warm, eccentric room full of personality and life just like Amélie's. Give it a try and let us know what you think, why not send in some pictures so we can see!