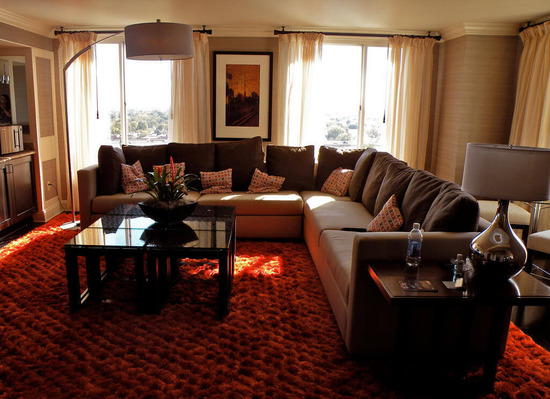 The internet is great for finding all sorts of inventive and practical advice for interior design, but with so much out there and so many different opinions it can be difficult to pick some simple, useful tips out of it all. Luckily, we've been scouring some of our favourite blogs and websites for great tips from top designers and critics to collect into one easy place for you here. If you like them, why not check out more of our top designers' work?
Step Back and Consider the Whole – Carole King
Carole, who blogs on
deardesigner.co.uk
, here dispenses some easy to forget yet indispensable advice. In her article on making curtains work in any room, she reminds us it's important to consider how every detail will react with every other element of the room. In interior design, nothing exists in a vacuum, and Carole recommends always creating a moodboard before starting work on a project to have a clear idea of the whole in mind from the very beginning.
See the full article here
.
Take Your Time with Colour and Lighting – Sophie Conran
In a recent
interview with the BBC
, Sophie Conran shared this great tip that reminds us to appreciate the complexity of lighting and colour. Instead of jumping in at the deep end, try a colour in a small area of the room or wall first and see how it looks at different times of the day. The light of the room, the time of day, even your mood can have a huge impact on how the colour will appear in the context of the room, and this slow approach gives you the opportunity to experiment with different effects. By applying the same thinking to lighting you can tailor the atmosphere and mood of a room to the perfect pitch. For gorgeous interior design products, delicious recipes and other great tips, check out
Sophie's blog
.
Don't be Afraid to Resist Influences and Follow Your Personal Taste – Kimberly Duran
Kimberly runs the always fun and charming blog
Swoonworthy
, filled with great interior design articles and nifty advice for brightening up your home. In a recent post, Kimberly talks about her changing plans for redesigning her guest bedroom/office and reassures us all that it's perfectly ok to change your mind and block out all the different influences fighting to be a part of your design. We couldn't agree more with Kimberly when she says she went back to the drawing board because 'it didn't quite feel ME enough' and sometimes we need to have the conviction to follow our own taste, personality and preferences.
See her article in full here
.
Never Push Furniture Up Against the Walls – Betsy Burnham
It might go against every instinct we have when arranging furniture in a room, but give Betsy's pro-tip a try and you'll immediately understand what she means. By pulling in items like chairs and sofas even just a few inches away from the wall, you can instantly create a warmer, more lived-in atmosphere in a room that has a lively flow rather than the stale feeling of a storage area.
Check out some of the work Betsy's company does as well here
.
Accessories are the Soul of a Room – Austin Warner
This great, simple tip from Austin Warner reminds us that it's the smallest details that can stand out the most. Think how lifeless your living room would be without the pictures of family and friends. Accessories show that you live in this room rather than anyone else and the more of these that reflect your personality and experiences the better. With this tip in mind, you'll never suffer a soulless room!
Has our list of expert tips given you inspiration, or are there other you think should have been included? Let us know and keep us updated on your projects!