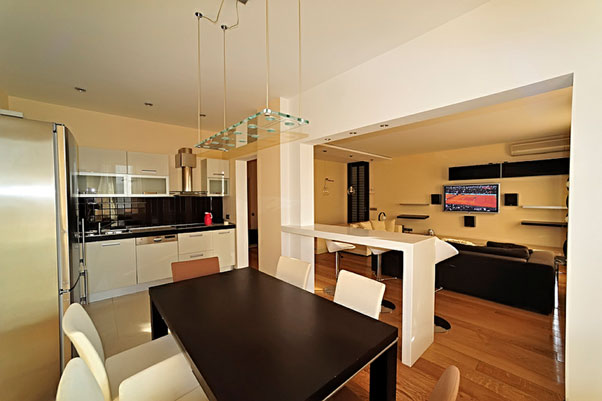 Do you secretly dream of doing something else with your passion for interior design? If only working on your own home isn't enough to scratch the itch for you, then you might want to consider a career in interior design. Being an interior designer is a demanding job in an increasingly competitive industry, but if you want to design beautiful spaces for people to live and work in then it can also be the most rewarding job you'll ever have. After reading our guide on how to make the first steps, you'll know if it might just be right for you.
To begin with, if you're thinking of making the leap from amateur to professional, why not test the waters by offering to do some work for a friend? This can be a great way to find out about the experience of working on someone else's home, with their budget and taste in mind. It'll give you an invaluable insight into the day to day work of being an interior designer, which involves all the creativity of designing your own home coupled with professional responsibilities and a lot less freedom.
Working with clients is an essential part of the job and very good people skills are a must. Knowing how to communicate an idea of a design that matches the final result is no easy task, along with gently steering clients away from bad ideas or the dreaded reaction: "that's not what I had in mind." However, that also means that having the ability to work with people to make a great design in their style a reality makes you incredibly valuable. It's just one of the marks of a great interior designer.
Another important trait for an interior designer is to be a jack of all trades. It's not enough just to have a sharp eye for fabrics and colours, you need to be familiar with all kinds of related fields. During the course of any job you will find yourself having to work with builders, architects, government policy officials, business owners and more. Becoming as knowledgeable as possible about all these different industries will let you be the lynchpin that brings them together to create a successful design. It also complements those all important people skills for working with the many individuals who contribute to a design.
Now you have an idea of what to expect, how do you get started? Education is very important in the industry and many will expect you to have a relevant degree, such as a BA in Interior Design or Architecture. This doesn't mean it is strictly necessary but it definitely helps.
Another important choice you'll have to make is whether to work with a company or as a freelance individual. Interior design is a strong field for freelancers and going independent is a very viable choice, however, depending on your experience, it may be worth joining a company or agency first to build experience.
This will also help you to build the most valuable document for your career: your portfolio. You should be developing a professional portfolio that is always ready to be seen as quickly as possible, ensuring that you have high-quality photographs of all the work you do. This is essential to finding clients and building your name and reputation.
It's also helpful to lean into one direction in your work. The vast majority of interior designers work on both residential and commercial spaces, but most have a preference towards one or the other. Many also develop a specific specialty over time as well, such as commercial offices or residential kitchens. As your career progresses, you'll find the areas you excel in.
Be ready to spend more time coordinating than designing, but if you can handle everything the job throws at you, working as an interior designer is a brilliant career. Using your passion every day to bring fantastic designs to life in all elements of peoples' lives could be the ideal job for you. And in the meantime, why not have a go with our
interactive wardrobe builder
to test your eye for great design.
Do you work as an interior designer? Let us know your advice and stories about the job.