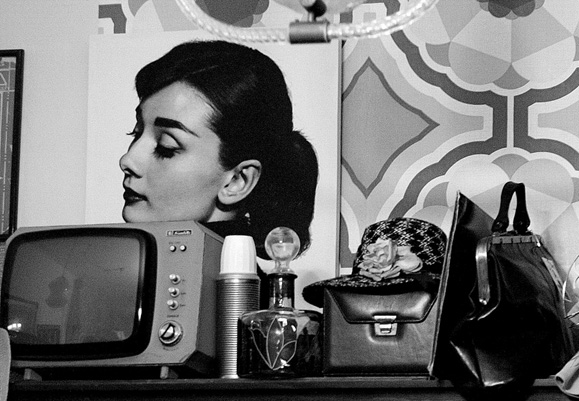 In her most iconic role as Holly Golightly, Audrey Hepburn has captivated decades of audiences in 1961's Breakfast at Tiffany's. The young socialite who drifts carefree around Manhattan is idealised for her glamour and life free of responsibility, but the film also shows the downs as well as the ups of living so vicariously. Her apartment is a great representation of her character, as well as being unforgettably stylish, and shows this double-edged life in its design.

The first thing that strikes you as we enter Holly's apartment is the brilliantly white colour palate. The dazzling consistency of colour across the walls, door, kitchen and furniture creates a sharp, clean feel that can be as overwhelming as Holly herself. Contrasting with the dark wooden floor, this simple match of tones also makes the most of the small amount of space (at least as Hollywood apartment sets go!)

Also adding to the spacious feel is the spare furnishing. No ornaments or decorations on the empty shelves make even the small apartment seem large enough to host a party, with no unnecessary objects to tie Holly down from going wherever she pleases. Even the furniture is charmingly thrown together, with a sofa made out of a bathtub sawn in half and fitted with cushions, complimented by a wooden crate as a coffee table. A splash of exoticness in the zebra rug also helps the appealingly makeshift feel.

The kitchen is neatly tucked into the corner before the bedroom and bathroom, consisting of classic (now retro!) 60s style appliances and cupboards. While it's a tiny studio kitchen, the white colour theme again improves the sense of space. Like the rest of the apartment it's simple and not cluttered with anything unnecessary, mostly used to keep milk for Holly's cat.

The bedroom is the only place that feels a little more permanent in the apartment. Here, Holly at least allows herself to indulge in a bed with an iron-wrought frame and an elaborate dressing table with segmented mirrors and spilling over with products. As the only home comforts, it shows Holly's fast lifestyle, where most of her time at home is spent getting ready for to go out and sleeping it off afterwards.

Finally, the bathroom stands out with a gorgeous Japanese screen across from the sink.
Holly's apartment just goes to show how much you can achieve even in a small space with a tiny budget. It's a wonderfully stylish and well-put together space that is also a perfect example of interior design in film reflecting character.

If you have any examples from film or television you'd like us to look at on the blog, just let us know. We'd love to hear from you.