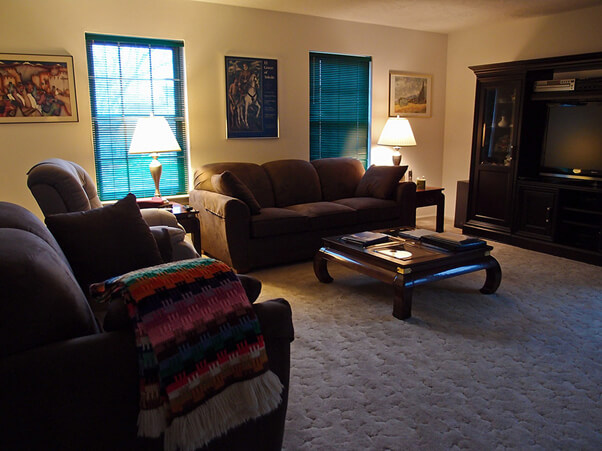 Our living rooms are the heart of our homes. As the name suggests, it's one of the few places we can just enjoy ourselves without the furniture and design needing to serve a functional purpose. So don't leave your living room to become a boring place with scattered furnishings and clutter, take a few minutes to read our tips on designing a great living room where you can relax, socialise and have some fun!

The first rule to remember is to design around what you use your living room for. That might sound obvious, but if you don't spend a lot of time watching television why have the traditional layout centered around one? If you prefer hosting and socialising, prioritise more seating and comfortable furniture facing each other. Try replacing the television with an audio system as the focal point of the room if you prefer listening to music, or perhaps an impressive bookcase instead. You don't have to get rid of the TV entirely or anything else you want to have in the living room, but design it with the primary use in mind.

Whether it's a TV or not, however, you need to choose what the focal point of the room will be. This is the part that draws the attention, the centre that the other furnishings are arranged around. Let your focal point take precedence as it provides structure and an immediate draw for your living room, making it inviting and appealing. Sometimes a room has a natural focal point like a fireplace, but don't be afraid to create one yourself, either to better suit your needs for the room or just to give it a fresh feel.

To further help the structure of the room, aim to create symmetry in the layout. Using pairs of furnishings rather than only individual items can instantly create a beautifully designed feel to the room. Go the final step by choosing a theme or style for the room rather than letting one develop by accident. By consciously choosing and arranging items to build this theme, you'll have an attractive living room that feels designed with love and care.

Other general tips can help you continue to improve the design. If you're running out of space and things are starting to feel a bit cramped, add mirrors to the room to increase light and depth to the space. A great way to keep the room organised is to pick furniture that has good hidden storage capabilities, swallowing up clutter easily before it spreads all over the place.
You can also maximise the available space by prioritising the size of the furniture. Don't leap straight for the mammoth sofa in the show room, instead take time to find one that truly fits your living room. Finally, in a pinch, multifunctional furniture can take care of your needs while swallowing up the minimal amount of space possible.

Follow these guidelines and your living room can be completely reinvented. Don't let your leisure time be wasted in a cramped, dark and uninspired room, make it a place worthy to do your 'living' in!