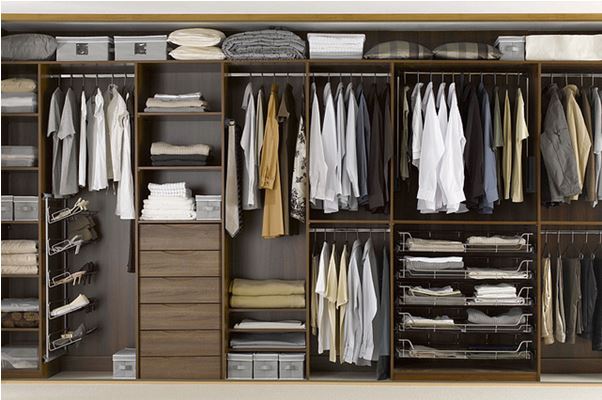 When designing a sliding door wardrobe, most people put their imagination to use on the exterior, choosing the number of panels, the finish and the style they prefer. But in order to get the most out of your wardrobe from a practical standpoint, it is best to prioritise the design of the interior. Our guide helps you determine which wardrobe interior elements to include in your design.



Full Length Elegance
If you have a lot, or even a few, full length dresses or other long items of clothing, be sure to include a hanging rail with plenty of space underneath in your sliding door wardrobe. If you're not sure how much space you require, measure the length of your longest dress when hung on a hanger and add at least a few inches underneath to ensure you have space should you buy an even longer dress in the future.



Suits You, Sir
Suits also need plenty of hanging space. While you are not likely to need as much space underneath the hanging rail as you would with long dresses, you are likely to need a bit more than if you are just hanging shirts. If you have a lot of suits, one interesting interior choice is to place one hanging rail directly above another. Alternatively, you could place suit hanging directly above shirt hanging to help determine matching items. Whichever you choose, be sure that you can reach the higher rail easily.



Shoes Shoes Shoes
An increasingly common request for wardrobe interiors is dedicated storage for a large number of shoes. A full length column of shoe shelving creates a very striking aesthetic. A dedicated 'box' for each pair of shoes is another interesting option. If you don't have quite so many shoes, consider including a few shelves at the base of your wardrobe, directly below dress hanging. This can help you determine which shoes go with which dresses.



Accessories Galore
Accessories are often the main cause of a cluttered room. Watches, cufflinks, ties, belts, jewellery, hats, gloves, scarves – the list goes on. Creating a dedicated storage area for each of these elements isn't always realistic; it is easier to hide them from view in drawers. A long column of narrow draws is a particularly popular choice. Another alternative is to use a column of narrow shelves on which to place boxes and baskets. Knowing the size of these boxes and baskets before designing the wardrobe interior is helpful.

Top Shelving
Many sliding door wardrobes are very tall and include shelving at the top that is only reachable with ladders. While this may seem like lost space, using deeper and wider shelving here can be great for storing larger items used on an irregular basis such as luggage bags. You can also store summer clothing in the winter months and winter clothing in the summer months, swapping them over when the seasons change. Top shelves can also be useful for storing spare pillows, duvets and other bulky bedding items.
Hopefully this guide has helped you think a bit more about how you want your wardrobe to work. If your wardrobe is for use by more than one person, you will have even more design choice to iron out. Don't worry if you aren't sure where to start, our wardrobe interiors page lets you play around with various options and our team of experts is always just a phone call away.