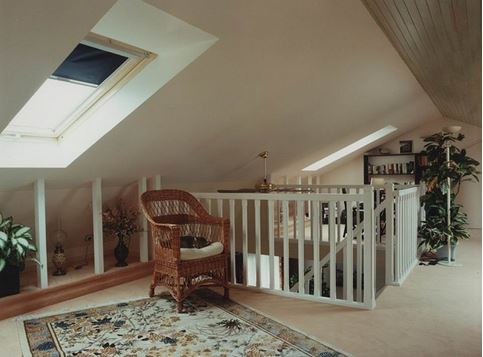 When it comes to making the most of confined spaces, we at The Sliding Door Wardrobe Company know more than most. We have squeezed our wardrobes in to alcoves, narrow rooms, small bathrooms and lofts with angled roofs. In this loft interior design guide, we focus on the latter. And yes, we have a section dedicated to sliding door wardrobes!


Embrace Existing Features
Many loft extensions include structural features such as a support beam or an in-room staircase. Making the most of these features is a great way to highlight the unique nature of the room as well as improve storage options. Consider a built in bookcase between the support beam and side wall; what better way to divide the room into sleep and play areas. As for the staircase, a solid built storage wall instead of a plain banister and spindles creates a sleek, modern feel.


You may also want to leave roof beams and / or a brick chimney breast as they are to create a more rustic feel. A bit of sandpaper and wood oil for the beams and brick acid for the chimney breast should be enough to bring out the former glory of unloved building materials.
Look Up
Depending on the exact size and shape of your loft, you might have more space above your head than you think. Pendant lights look great when hung from high up, while hanging chairs make a superb statement piece. Suspended shelving can also be very effective, both in terms of storage and aesthetic. In the largest loft spaces, it may even be possible to suspend a bed from the ceiling, leaving the space underneath for a desk, play area, snug, or any other use.


Exploit the Alcoves
Most loft spaces simply board up alcove space or, at best, include a crude storage area that is often very difficult to access and utilise to its full potential. Purpose built wardrobes in this space are often more storage efficient. Or you can include personalised touches such as a built in snug for pets, bespoke lighting solutions, media storage or even shoe shelving. There are even some lofts that have beds all the way in to the alcoves for an ultra snug, although admittedly claustrophobic, sleeping arrangement.


Custom Made Furniture
Most of the solutions mentioned require the skilled hands of a joiner / carpenter or other bespoke specialist. We certainly recommend hiring a pro if you want to make the most of rooms with an unusual shape. The only issue here is the cost, with cabinet makers and joiners rarely offering discounts on their specialist skills.
If you are looking for a more cost effective loft design that includes loads of storage, contact our office today for more information about our attic sliding door wardrobes.