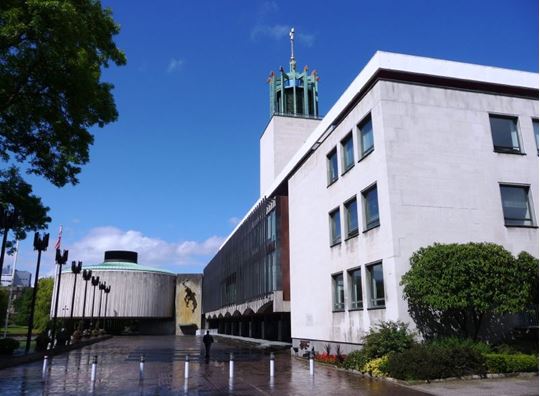 Opened in 1968 by King Olaf V of Norway, the Civic centre has since become one of the region's best known and best-loved buildings. In fact, a local panel of experts recently voted the Civic Centre the best building the best in the North East.
Although the building is perhaps best known for its wonderful exterior features, such as the iconic seahorses – a symbol of Newcastle's port status – and the David Wynne sculptures, Swans in Flight and River God Tyne, we love the building for its beautiful interior.
The interior of the building includes the famous grand entrance, with a Bavarian crystal chandelier and marble staircase, along with several classic furniture designs from the late sixties / early seventies. These pieces prove that true design is timeless and include fitted desks, chairs, doors and door frames and more. Have a look at the gallery of images on the Chronicle Live website and you'll see what we mean.
While the building is much-loved and includes several timeless design elements, the need to upgrade to modern standards with regards to heating, lighting, ventilation and electrical systems is undeniable. Plans will address these concerns as well as develop new office space to create a more efficient building that generates more income for the local council – we just hope they stay loyal to the design and history of the building. Plans also include improvements to civic functions like weddings – we couldn't think of a better place to get married.
If you like the civic centre as much as we do, contact us or visit our showroom and ask about some of sixties / seventies inspired wardrobes designs, including the ivory glass and tobacco wood shaker. No matter what your design requirements, we're confident we can help you find the right wardrobe for you.