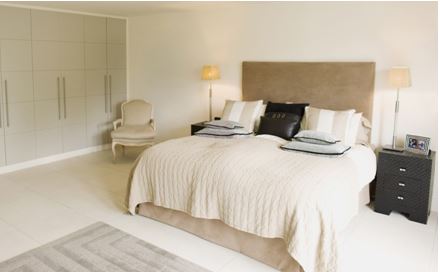 Trying to furnish and decorate a small room can sometimes feel like an impossible and thankless task, but just because a room has limited space, doesn't mean your options are limited. There are lots of smart solutions for making your small space look and feel larger than it actually is.
Colour Themes
The placement of colour and tone are very important for small spaces. Overuse of colour or textures in a room can close in the walls and make a space seem smaller than it is. An easy way to make a cramped living room feel more spacious is by lightening the walls. The brightness of a colour can be accentuated even further by darkening the adjacent entryway.
Let the Light in
A window is the eye of any room, it is the one aspect our eyes are automatically drawn to when walking into a space. There's many ways to trick the eye and make even a small window become the focus of a room. You can create an impression of expansiveness by placing curtain rods beyond the edges of the window frames to allow in more light and draw the eyes outward. For more in-depth house conversions, knocking down a wall will create a feeling of space and allow the light to draw through a whole space rather than bouncing from wall to wall.
Create Reflections
"Mirrors are a tried-and-true way to open up space," says Susan Zises Green, a New York designer. "They almost always help a small room." Clever placing of mirrors can double the appearance of a room, hanging a large mirror on the wall adjacent to a door will create a sense of space as soon as someone enters. Opting for a large mirror rather than several small ones will create a dramatic ambience.
Choose Your Furnishings Wisely
Just because you have a small space to work with, doesn't mean your furnishings have to be small and insignificant. Try to opt for bigger but fewer pieces, filling your room with just a small number of large scale furnishings rather than a lot of small pieces will actually make it appear larger and look grander.
Bespoke built-ins, storage pieces and furniture that are tailored to your exact special requirements will utilize every available inch of space in your room as well as hiding a multitude of messy sins. Our sliding door wardrobe interiors range includes bespoke combinations you can choose from to suit any need (link).
A small space shouldn't be cluttered with accessories, so choose your decorations wisely to accentuate the feeling of space and calm within the room. Choose wall mounted lamps and shelves to make use of all available space without taking up additional floor space.