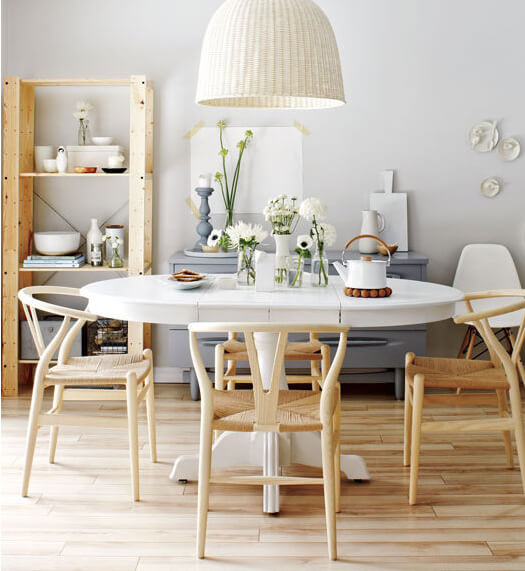 The dining room was once the main room of the house and at the height of fashion, nowadays with the rise of TV dinners and technology it has unfortunately, been largely downgraded. Of course, the shrinking size of modern homes is partly to blame and in those older homes with space for a dinign room, people often prefer to extend their kitchen. Sadly, because of this, the 'dining room' has started to become somewhat obsolete.
Here at Sliding Door Wardrobe Company we appreciate the importance of dining and think a Dining room can be adapted in many ways to fit in with modern day life .
Consider your spatial layout
Spatial awareness is important, you need to make sure there is enough room for guests to circulate the space comfortabley. Ensure that you leave enough space around your table for guests to be able to manoeuvre comfortably in and out of their seats.
The room doesn't have to be set out seriously, combine a mismatch of chairs in muted tones to add depth and fun. Make the most you can out the room, make it traditional enough for christmas lunch but cozy enough with some extra seating off to the side- for relaxing on a sunday afternoon.
Combine Artificial and natural lighting
Lighting is a crucial factor to consider in a dining room as it can make or break the whole ambience of the room. Placing your table near a window or patio door will make the room seem larger and more open when your guests are eating.
The latest trend is low hung, industrial type lighting, this look is great for drawing attention to your table and creating an intimate feel.
Storage solutions
Storage may not seem like an important aspect of a dining room but it is actually a great place to store a lot of your essentials such as glassware, serving platters, napkins and table decorations. Glass cabinets, (although once thought of as old fashioned) can actually be a great alternative to squeezing everything into kitchen cabinets and allow you to show off that fine china you keep for special occasions.
Avoid technology
Adding a flat screen TV or digital radio to your dining room may feel like a good idea at the time but you should steer clear of bringing in anything that could divert you from communicating with those around the table and really relaxing. The main point of a dining room is that it is the one place you can escape all of these distractions.
Create a feature
If your feature is lighting then make sure you go for a large oversized light that draws together the whole room and really catches your eye when you enter. If you decide to go for more minimalist lighting then your feature could be a large mirror behind your table or a table decoration. Table decorations can range from a fruit bowl to a lantern, but no matter what it is make sure it makes a statement to your table and doesn't get lost within the room.