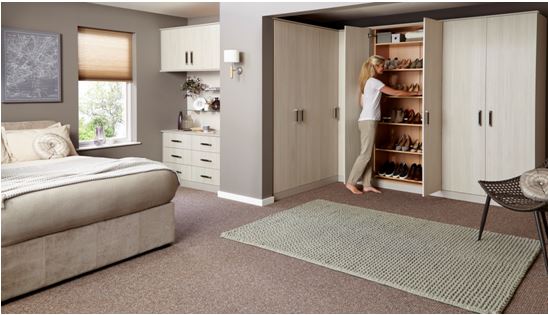 There's little point in owning the latest bag or dress if you can't track it down when you're getting dressed on a morning. A clean, well-organised wardrobe—means you'll maximise your space, have all of your clothes exactly where you can see them and probably look a lot more professional and organised as a result. Take a look at our top tips on how to get a clean, well-organised wardrobe.
Firstly you need to start organising, there are different solutions for each item of clothing so the best way to start is to take everything out of your wardrobe and start with a blank canvas.
Tops
If you have enough space to hang everything, then hang it, you'll wear it more if you can see it.
Sweaters
Fold your heavy sweaters so they don't lose shape or stretch on the hanger, colour code them by weight and texture, that way if it's cold outside you'll know exactly where to find your thick wool roll necks.
Jeans
Organising your jeans is a personal choice. There are a number of ways to do so—by cut, brand, colour, style, size, or none of the above. An easy way to make them look clean and tidy is to hang them by the hem and organise by dark to light denim.
Pants/Skirts/Shorts
Hang them using clips and fold in the sides so the outside of the garment isn't marked by the clips. This also makes everything look uniform on the hanger and gives it a cleaner side profile in your closet.
Dresses
For dresses, you can organise them by colour, length or occasion, sticking to a colour scheme and starting from short to long is the neatest way to organise.
Bags/Scarves/Hats
Scarves folded in piles by colour and material works best, and makes it easy to pull one out without ruining the organisation of the rest. For hats, opt for hat boxes then take uniform photos of the hats and glue them to the outside of the boxes. Keep handbags in dust bags if they are expensive or easily damaged, and store on a single shelf where each one can be seen easily and won't get squashed or misshapen.
Shoes
Shoes are beautiful and not to mention, usually very expensive! So they deserve space, attention and a good home! Dedicate a shelf or 3 in your wardrobe to your shoes and display them right shoe toe out and left shoe heel out so you can see both to make finding what you're planning to wear easy. Organise them by colour and style and always hide trainers and flip-flops in the least seen place and your prettier shoes in the most visible.
Lingerie
Organise by colour, size, and type, make sure to rotate your bras and underwear so you're not wearing the same few all of the time.
Jewellery
Having a built-in drawer in your wardrobe is a great way to keep jewellery neat and tidy, it's also a great way to see what you have along-side your clothing.
Our sliding door wardrobe interiors range is sure to include a combination that matches your lifestyle and meets your storage needs. Our solutions include clothes rails, drawers, trouser hangers, storage for shoes and more.
No matter how unique your sliding door wardrobe interior needs to be, we can help. Contact our showroom today for more information about our storage solutions.