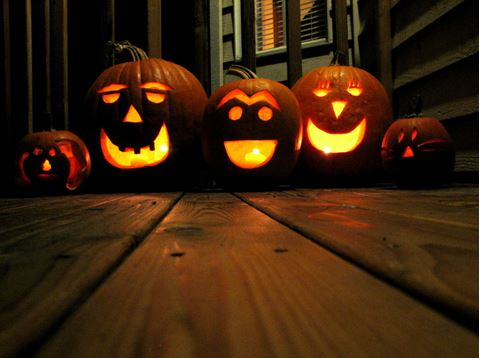 How to decorate your home for Halloween.
Halloween was once something only Americans or young children celebrated, but in recent years it has become an important date in the UK calendar for people of all ages.
October is a beautiful month for interior design inspiration, the weather begins to drop and the dark nights close in for the winter, and staying at home in front of the fire never seemed so appealing.
Because we spend a lot more time in our homes over Autumn and Winter, it is important we make it a homely and inviting space, so what better occasion to have some fun decorating your home than at Halloween? Whether you're hosting the Halloween party of the year, or just staying in and watching a scary movie, decorating your home will make it a night to remember!
Your Front Door
First impressions start at your front door and set the mood for the rest of your home so make sure your entrance is something that will grab your guests attention. Cover your entrance with spooky accessories such as handmade spiders, cobwebs and white pumpkins, your home will have a chilling vibe before visitors have even walked through the door. Create a spooky wreath out of Halloween decorations to hang on your door, or make draperies out of cheesecloth by tearing long lengths and hanging them from tree branches and across windows and doorways.
Dining Room
Your dining room is a great place to incorporate a Halloween vibe, swap your every day table cloth for a black or white option and cover in fake cobwebs. Add a chilling handmade centrepiece to your table such as a pile of spray painted pumpkins and make use of the scatter of leaves in your garden by spray painting them black and scattering across the table.
Windows
Windows are an easy place to showcase your Halloween decor and prove to your neighbours that your fun enough to celebrate the occasion! Use fake cobwebs around the edges of all windows and drape pieces of cheesecloth from each side to dress your windows.
Lighting
Lighting can completely change the atmosphere and mood of your home especially on dark autumn nights, so using lighting throughout your home at Halloween is a great way to decorate. You could hang decorative lights such as pumpkins on your fence or around your front door for an exterior option, or across your fireplace inside your home. Placing lamps and small lights in corners of the room surrounded by other decorations will give an eerie feeling to the room.