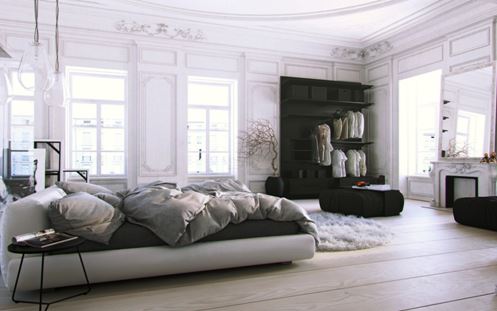 SHADES OF GREY
This year's neutrals come in the form of winter-morning greys, the great things about this colour palette is that no matter what shade you incorporate, they will never clash. Add touches of silver too, metallic's bring a touch of glamour and warmth to a room. A great way to do this is through a selection of vintage silver tea lights or candle holders displayed on a decorative brushed silver tray. Or add some sparkling silver baubles to your tree to coordinate every element of the room.
THE MIDNIGHT BLUES
If you prefer a richer colour scheme, look no further than midnight blue, deep indigo and ink colours this winter. As the cold weather draws in we will be seeing a much more sultry look in homes and this colour palette does it in a beautiful way. . A bold feature wall of blue toned, luxurious wallpaper paired with neutral walls is a great way to add this look without darkening your overall colour scheme. Keep this look opulent and regal by using jewel toned and frosted elements.
COSY KNITS
Textures are really important and help to create a sense of luxury as well as making your space inviting and relaxing. Knitted accessories are getting bolder, with huge chunky cable-knits replacing demure weaves. Foot stools and pouffe's are a great way to keep the cosy look running throughout the whole room, and this winter knitted pouffe's are a huge trend. Add knitted blankets to drape over sofas to make your space cosy and inviting, your guests won't be able to resist curling up on your sofa and making themselves at home this Christmas!
CHECK IT
Traditional tartan looks great in both town house and country house settings. If your walls are neutral, a set of large checked curtains are a great way to incorporate the trend. Touches of tartan can then be added in cushions, throws or bed linen.
A SCANDANAVIAN EDGE
For those with limited space or those who prefer simplicity, consider adding a Scandinavian edge to your home. With an intriguing use of pattern, raw materials and simple textures, adding a hint of Scandinavia to your humble abode couldn't be easier. Clean lines and spacing is important in this trend, with a splash of colour/pattern every now and again. Use a striking piece of furniture as your focal point to draw people's eyes and break up the otherwise simple design.