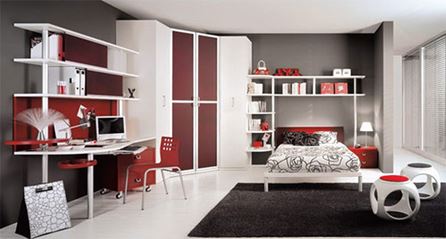 A girl's bedroom is a pretty special place, it is a sanctuary for alone time, a place to hang out with friends, and a home for all the things she loves and cherishes. But with so many clothes, accessories, gadgets and stationary, organising a teenager's room can often be a complex task. Every parent knows how difficult it can be to persuade teenagers to clean and tidy up after themselves, but by making storage attractive, tidying can become fun.
The Fashion Zone
The favourite part of every girl's room is of course, the wardrobe, so it is important to get it right! Floor to ceiling mirrors on sliding wardrobe doors will make the room look and feel larger, providing not only the best perspective when selecting an outfit each day, but also the perfect place to see what she's doing when practicing dance routines with friends or taking 'selfies' in her new clothes. By opting for mirrored wardrobes, you take the need for an additional mirror away, leaving more space throughout the room. Built in wardrobes offer a clean and tidy look whilst making the best of use of space, take a look at our Classic mirrored wardrobes and see how you could utilise your space.
The Study Zone
Whilst also a perfect study area, a desk is also a crucial feature of a bedroom. Somewhere she can revise and complete homework, with cleaver storage solutions for all those folders, textbooks and stationary. Opt for a long, rectangle shaped desk which will slot in easily against a wall without decreasing space. Shelving and storage units should be fitted below or above the desk to keep all studying accessories in one zone of the room, so not to spill over into the 'fun' zones.
The Chill Zone
A snug bed to catch up on beauty sleep after a busy day of studying is essential, add large full cushions and throws to make it a cosy haven to chill out in when socializing with friends. Opt for a storage bed rather than your average bed frame. Divan beds with drawers or hidden storage ottoman beds are a great way of storing all those extra items that don't need to be accessed frequently.
Lighting can really make or break the ambience of a room. By adding fairy lights, coloured bulbs or a simple bedside lamp, you can create a relaxing spot that even the fussiest teenager would be happy to hang out in.