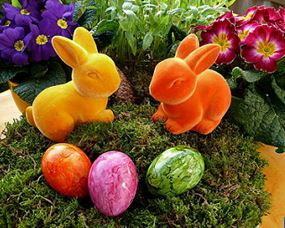 Easter Colours
Colour plays a massive part in creating an Easter vibe this season – shades of yellow, blue and pink can alter the lighting of a room subtly yet effectively. Floral patterns and pastel colours will couple fantastically with our minimalist style wardrobe in white.

Embrace Nature
A nature-oriented theme will also bring out Easter in your home. Fresh flowers and plants, such as Daffodils, will bring your room to life, as well as adding an element of vibrancy. Decorations of rabbits, birds and eggs are the perfect idea for a centrepiece for a room, for example on dining tables or coffee tables in the middle of living areas.
Another great way to give your home a naturalistic feel is with our maple wood wardrobes, as the quiet, elegant finish of pale wood will bring out the colour in your decorations, complementing them effortlessly.

Have Fun
Easter accessories are not only seasonal, but also fun. Creating an arrangement around your Easter eggs is an excellent way to store them until eating, and can be a fun activity for children. Decorating eggs to match your new look is also an enjoyable family activity.

Give your home a refreshing Easter makeover this spring and add colour, vibrancy and style to your rooms. A good place to get started is with our interactive wardrobe builder, where you can choose from a range of different finishes, styles and designs to suit your look.