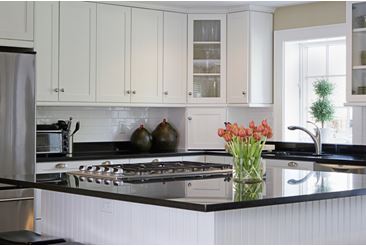 Cosmetic Changes
Let's start with the easy fixes – wiping surfaces and polishing where appropriate. Clean surfaces look a lot better than dirty ones, and polishing features can brighten a room and give off a shine which will make your worktops and furniture gleam.
Kitchen Cleaning is Key
Keeping your kitchen clean doesn't take a lot of time or effort, and can make a huge difference to the cleanliness of your home. Cleaning your oven will help to eliminate the smell of burning from your kitchen, as dirt on the inside of your oven burns every time you switch the oven on. Washing machines, dish washers, and toasters need to be cleaned, too. Crumbs in the bottom of toasters can burn and create smoke, leading to unpleasant odours, while dirt inside dishwashers and washing machines can make them do the opposite of what you want them to.
Don't Overdo It
Over-washing can damage things, especially rugs and flooring. Mopping regularly is not recommended; once a month is fine, with spot cleaning in between. Rugs should only be cleaned every 3 to 4 years according to Restoration by Costikyan.
Decluttering
If pulling on a pair of rubber gloves and scrubbing floors and cleansing surfaces doesn't seem like your idea of fun, you can spring clean by reorganising. Our shaker wardrobes are perfect for keeping your clothes organized and ordered, as they have lots of storage space as well as a sleek, modern design.
Still not convinced about Spring Cleaning? What if I told you it can not only give your home a lift, but also improve your physical and mental wellbeing by creating a sense of fulfilment and accomplishment. So don't wait for next Spring, get started today!