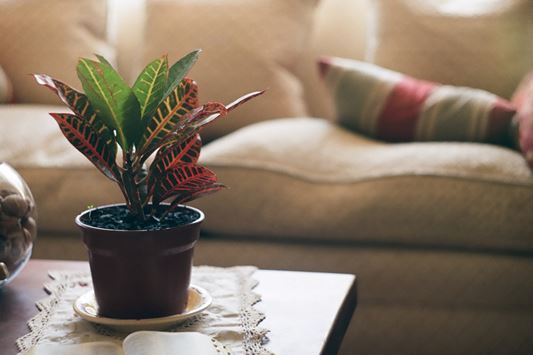 Plants are the perfect way to incorporate a natural feel into your design scheme, and when done correctly it can have a huge impact on your interior, bringing life and colour to an otherwise unexciting room.
Not only will introducing plants into your room add colour and vibrancy, but it will also improve the atmosphere inside as plants release oxygen during photosynthesis. Certain purifying plants, such as The Madagascan Red Dragon Tree, or the much friendlier-named Peace Lily, can remove up to 60% of airborne toxins or pollutants from a room, contributing to cleaner air which will lead to increased concentration and better focus.
As well as the health benefits that they bring, plants can create a statement look in any interior and are excellent for centrepieces, for example on tabletops or mantelpieces to bring an exciting, fun vibe to your room. Matching flowers to your colour scheme isn't necessary – a bouquet which stands out in its surroundings can be more effective than one which is co-ordinated with other colours in the room.
Brightly-coloured plants and flowers are ideal for plain colour schemes like black and white, as they create a colour pop which brings a space to life. In a room with a minimalist look, flowers or green plants are the perfect way to add liveliness, and can make for a sophisticated and fashionable look. Our minimalist wardrobes in black or white are ideal to use with plants or floral centrepieces.
Flowers and plants are not only good for creating a contrast against a colour scheme, but tie in perfectly with a nature-oriented theme and floral patterns. Mixing plants with wooden furniture is a match made in heaven, and naturalistic colours such as green, beige or cream are the ideal base colour for a natural theme.
However you want to incorporate a bit of nature into your room, we have the wardrobe to match here at the Sliding Door Wardrobe Company. Tell our design experts what you want and they can help you design your ideal wardrobe.