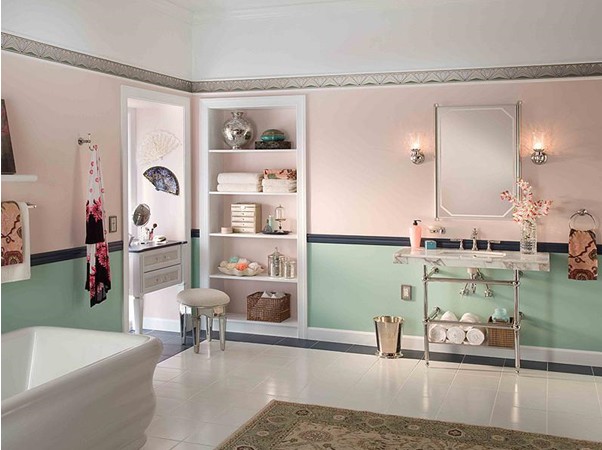 It's a colour often associated with dental surgeries or kitchens, but mint green can also be a fantastic option for a bedroom or even your living room. Find out how with our helpful guide.
Calming Colours
Green is a peaceful, calming colour when used effectively, which makes it the perfect choice for bedrooms and living areas, where its smooth, light hues will encourage you to rest and relax. Aside from the obvious decision to paint the walls, there are many different other ways to incorporate this subtle and stylish colour into your living space. Using a mint green throw rug or cushions are both perfect ways to add colour to a monochromatic colour scheme, especially when used with white or black sofas or bedding.
Down to Earth
Mint green is an excellent grounding colour, as it can bring order and tranquillity to what would otherwise be a frenetic colour scheme. Mixed with colours like lemon yellow, mint can help to ground a colour and compliment more vibrant shades like orange and yellow. Pairing with peach makes a brilliant combination, as the pastel colours of green and orange mix together to make a sophisticated, fashionable blend which can also mix with metals like gold and bronze excellently. Mint green and peach can be a perfect match – it works excellently in a couple's bedroom, giving masculine and feminine colours, while also providing a calming sensation.
Add a Splash of Colour
Mint green is a perfect way to add some vibrancy to colour schemes which also use a lot of greys, as it stands out against more subtle backgrounds. Make a statement with green accessories on grey furniture. Whether it's more of a duck egg blue or jade green, a lot of variations of mint green go with grey hues, and even a small addition can have a large effect. This fantastic lamp by Eglo would be the perfect addition to a bedroom, either on a desk or bedside cabinet.
If you want a mint green colour scheme, the colours would combine excellently with any of our wood wardrobes, or you could even design your own mint green wardrobe using our interactive wardrobe builder.