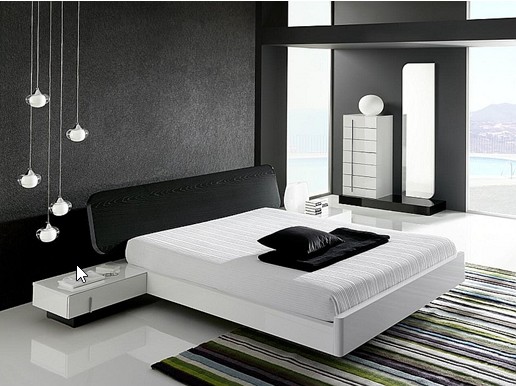 It's been a large part of design and art since the 1950s; from Yves Klein's eccentric paintings to the simple coffee tables we see in our living rooms every day, minimalism is everywhere. You can incorporate this fantastic design scheme into your home in a number of ways - through furniture, decor and artwork.
Less is More
A key rule of creating a minimalist interior – since Mies van der Rohe coined the phrase in 1947 it has been a staple of minimalist architecture, design and even music. A good way to follow this rule is to limit yourself to about 3 main characteristics – this could be feature colours, pieces of furniture or textures.
Often, a monochromatic colour scheme works best, as white provides a clean, plain background for any standout colours and wall decorations. White, grey and black is the perfect trio for minimalist bedrooms; white walls combined with a black rug or bedding can be accentuated with grey throw pillows brilliantly. For a different touch, try a black feature wall, with the other walls of the room being white.
Or you could choose a standout piece of furniture. This unique table is perfectly eye-catching and will make a statement in any room.
Use Textures
Using textures, as long as it's not too many, is a great way to incorporate a minimalist feel to a room – textured panels or plain canvas artwork create a perfectly unassuming look in a room. A textured bed runner is another great way to something to a room – whether it's a standout colour or not, the texture will catch the light, making the pattern stand out and add dimension to your room.
Storage
For a properly done minimalist bedroom, follow this simple rule: no clutter. Make sure everything is stored out of sight, as a chest of drawers, storage boxes or shoe racks littering your floor can take up space and make it seem like your room is smaller than it is. One of the main advantages of a minimalist design is that it maximises your room, making it feel more open, so anything which will take up space should be avoided.
Our range of minimalist wardrobes not only combats this problem but also blends in perfectly with a minimalist design. You can choose the same colour as a wall, or, to make an impact, opt for black glass. This will stand out against a white wall and match perfectly with a black rug or furniture, and add character to your room.