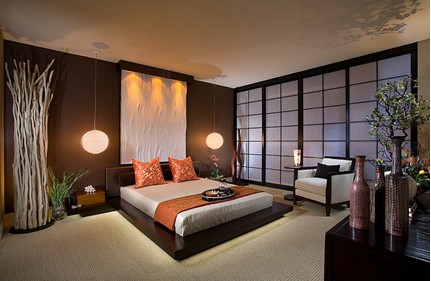 Almost synonymous with tranquillity, peace and beauty, Asian design has become a staple of modern interior design, and has been used by countless architects throughout the years. From the antique patterns of the Chinese Ming Dynasty to the Minimalistic Zen design of Japan, you can incorporate this fantastic style into your space in several ways.

Choose the Right Colours
While a minimalist approach is recommended, you don't have to limit yourself to white. Understated hues of colours like blue and green will fit effortlessly into an oriental interior. However, deep browns and blacks can create a fantastic base for patterns and will mix well with colours like gold or silver and create a look which stands out, adding life to your room.

A main colour of purple, mixed with a dark accent is a classic combination and lends a luxury feel to any room. A feature wall is a great way to incorporate this into your room, and even purple bedding with a few black throw pillows will add an Asian twist to a space.

Don't Underestimate the Little Things
Sometimes, something little can have a big impact. A few Buddha statues are an easy way to add a touch of Zen to a room, and even a paper lantern or bamboo lightshade will hint at an eastern influence. Ornamental decorations are a brilliant way to add a bit of life into your interior without going full out. Try adding a pair of small Guardian Lions on a shelf or table to give your room a feeling of Chinese influence. A pagoda statue will add a Thai feeling, and if you wanted to go far a Japanese feeling, an ornamental water feature will not only enhance your room visually, but it can aid sleep, as the sound of water is calming and can help you to relax.

Bring the Garden Inside
While some architects go all out and create an indoor Zen garden, complete with a Koi pond, rocks and a willow tree, you don't need to go to quite that level for a touch of tranquillity in your life. Miniature Zen gardens fit neatly onto a desk or table and not only provide an aesthetic benefit but will also help to calm the room. Rock gardening can also be very therapeutic, helping you to meditate.

Combining one of our Black Glass wardrobes with an Asian-inspired design scheme will provide a great base for patterns elsewhere in the room and will accent purple fantastically. To create your perfect Oriental interior, contact us or give us a call today on 0191 487 5870.