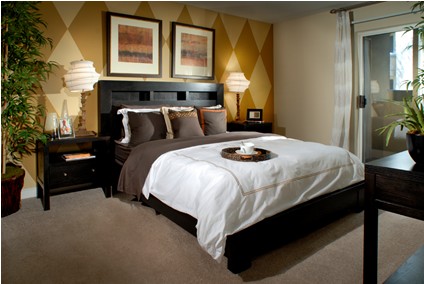 Your bedroom is your haven, the place where you kick off your shoes and lie down after a long hard day, the place where you sleep, read, and most of all, the place where you relax. So why give it the short end of the stick when it comes to design?
Our guide will help you make a statement in your bedroom, turning it into a stylish, comfortable retreat that will give you the only excuse you need to stay in bed all day!
Make the most of colour
Incorporating colour into your bedroom is a great way to add life and vibrancy to otherwise basic decor. Coordinate rugs, cushions and throws for a subtle, yet snug, take on a bold finish that can be changed up at any time. Contrasting red, turquoise and yellow hues against crisp white bedding adds warmth, creating a relaxing atmosphere which is essential in getting a good night's sleep.
Add a feature wall
You might want to consider trying your hand at DIY by painting a feature wall, chimney breast or fireplace in a standout shade. Or if you're feeling really adventurous, opt for patterned wallpaper against white or greige finish to bring the room to life. Remember to compliment your statement wall with synchronised soft furnishings for a homely, welcoming feel.
Try eye-catching accessories
If redecorating is out of the question, why not invest in striking accessories for that extra 'wow' factor? Shop around for quirky clocks, bespoke canvas wall hangings, standout plants and chandelier lampshades to create a statement that is easy on the eye and adds depth to minimalist decor. Not on the High Street have a great range of unique decorations that will add a distinctiveness to any personal space!
Don't shy away from unique furniture
Don't forget about furniture! If you have a bit of room to spare, why not invest in an enticing lounge chair or bean bag for added impact? If not, vanity units, bedside cabinets and luxurious wardrobes are the perfect centrepiece for any size room. You can create the perfect wardrobe for your bedroom using our Interactive Wardrobe Builder, a great way to put your own stamp on a statement interior piece!
No matter how you decide to make a statement in your bedroom, we have the wardrobe to match. Contact our experts for more information.