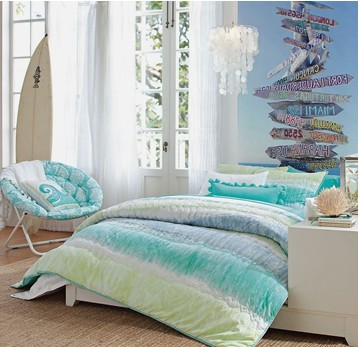 Picture the white of the sand, the crystalline water and the bright colours of the sun and sky. The tranquillity and peace of the beach is hard to replicate, but you can recreate a classic seaside feel in the comfort of your own bedroom with these handy design tips.
Use Colour and Pattern


A good way to create a relaxed coastal vibe is to keep the colours you use neutral and light. Pastel blue, cream and off-white are brilliant choices for a background colour, and will provide the perfect contrast to colours like navy or royal blue. For a brilliant beach hut style, stripe blue and white paint, to give off a deckchair appearance and relax a room. Incorporating nautical patterns is a brilliant way to add a hint of the seaside – waves, stripes and even large scale graphics, like a transfer or vinyl sticker of an anchor or compass can enhance a room.
Vary in Texture


Textures can play a big part in creating a room's appearance, and when going for a nautical theme; wood, wicker and rope may very well be your new best friends. Sisal is a brilliant and diverse texture to work with, and can be used in a variety of ways. Sisal rugs look fantastic on a wooden floor, and provide a rustic, natural feel. Meanwhile, something as simple as a coil of Sisal rope can look fantastic in the right setting, such as hanging from a dock cleat on a wall or round something like a decorative anchor.
Wood is almost essential for a beach-themed bedroom. Distressed wooden panels are a great way to add a shabby chic look, and you can create a brilliant DIY headboard by painting a few wooden planks in neutral colours and sanding them down to create a weathered look.
Get Crafty

Don't be afraid to bring out your inner Neil from Art Attack and be creative – it's easy to make simple but effective things which are great for decoration, and ornaments can subtly enhance a room. Covering the bottom half of a candle with sand and decorating it with shells is a brilliant way to add a touch of the beach to your home. Placing a few driftwood sticks in a jar decorated with shells and other seaside patterns is simple but effective, and will add a fantastic rustic feel to a room. You can make your own driftwood through this easy method, which gives fantastic results
Matching wood to pale blue, white or cream will give you a perfect seaside feel. Our white Avola wood wardrobe is an ideal match for a beach themed bedroom, or you could even build your own wardrobe, choosing colours and a design that suits you with our interactive wardrobe builder.