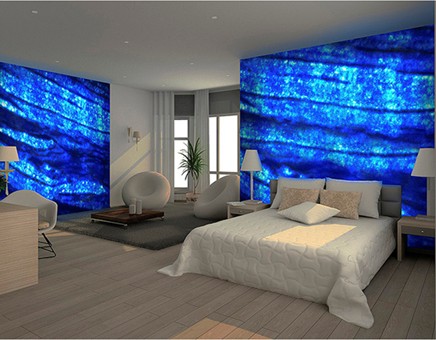 The ocean has been an inspiration for artists, musicians and designers for years – here's how to make it a fantastic part of your design scheme.
Blue is the Colour
It's no surprise that blue plays a key part in creating an ocean feel, but the type of blue can make a massive difference in your room's character and appearance. If you choose a blue that's too dark, you could create a restricting, dark feeling in the room. A blue that's too light may not have a very big impact and fail to create a sufficiently nautical atmosphere. Blue is one of the best colours for bedroom walls as it is a mellow, tranquil colour, perfect for encouraging sleep.
Stay Natural
Incorporate nature into your space for a great feeling of peace and serenity. Shells are a great way to bring the sea inside; a few ornate shells scattered on a shelf is the ideal way to create an effective but simple display. Natural prints and art pieces are an easy way to add some life to a room. A divided canvas print of a seaside picture is a great feature for hanging over a bed, couch or TV, and imparts tranquillity and calm into a room. Dense blues mixed with the white froth of the sea foam creates a brilliant mix of peace and chaos in nature, a blend which compliments a room brilliantly.
Keep it Curvy
William Kent, the architect who designed Hampton Court Palace, once said that 'Nature abhors a straight line', so use natural pieces of furniture to your advantage – if you can find some natural wooden furniture there is a chance it will have some natural curvature to it. Curved wood is excellent for an ocean theme as it will resemble the hull of a ship or boat.
If you want to transform your room into an ocean-inspired haven, our Aqua Glass wardrobes are perfect, and will add a splash of colour to your bedroom.