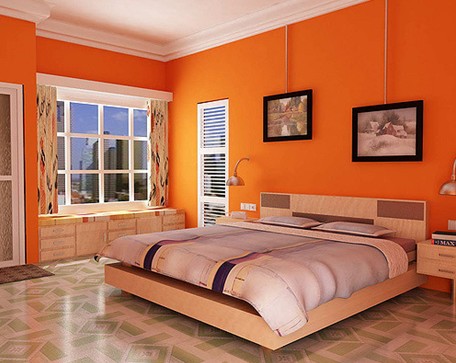 It definitely creates a striking image, but orange can be a tricky colour to pull off; get it right and you'll have a look reminiscent of a chic Parisian boutique, but get it wrong and it's Au Revoir Paris and Bonjour Prison Uniforms.
Accent or Feature?
As is the question with any design idea, especially colours, you need to first decide whether orange will be an accent colour to a room or a feature colour. If it's the former, choose where you'll incorporate it wisely, as no one likes to see splashes of colour thrown in any old place. For the latter, you need to have a good amount of self control – rein in those urges to paint all four walls a garish shade of citrus and instead opt for feature furnishings, such as tables, chairs or sofas.
Heat things up...
Orange is a hot colour, which means it adds a warming glow to any room, making it especially good for kitchens, conservatories and bedrooms. Nothing beats waking up to radiant hues of sunlight flooding in through windows and reflecting off walls to bathe a bedroom in Orange. Combined with white, cream or even beige, Orange can make for an extremely clean, polished look which suits breakfast bars and kitchens excellently.
Walls or Floors?
Typically speaking, when using a bold colour such as Orange, Blue or Yellow as a feature colour, it's best to limit it to floors or walls. Walls can entail anything from wall-hung art, tapestries or curtains to the actual paint on the wall itself. Floors can involve the flooring itself, rugs, or carpets. A great way to add a splash of Orange is to add an orange rug against a natural wood floor, creating a brilliant summery feel. Darker wood can also be a great way to give off an oriental vibe or Rustic feel.
To achieve a great rustic look, pair one of our wood wardrobes with orange walls, rugs or accessories. Our Maple Wood Shaker is ideal for that light, natural look which complements citrus shades so effortlessly.