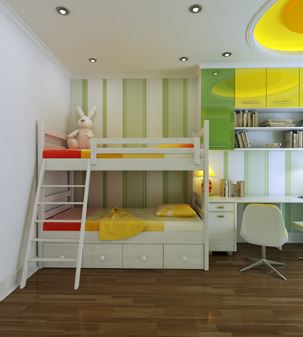 Most parents redecorate their child's bedroom as their tastes change, which could be as frequently as a single day. In reality, the average bedroom is redecorated every 4-5 years. With the average cost of a decorating project in a single room could set a family back between £375 to £500, you could be looking at spending thousands on your child's bedroom before they even hit 18.
Instead, why not build an enduring children's bedroom that can help them play, learn the value of organisation and most importantly, not have to be altered or redesigned as they grow...
Designing a room: from a newborn to an adolescent
As the tastes of your child can change from Frozen to Moana, there will be a constant wish list of new duvets, pillows and toys that your child will crave to adorn their room. To keep the costs down, buying an enduring, more minimalist style of bed frame and a wardrobe that withstand the test of time will allow child's unique taste to change, whilst maintaining cost effectiveness and can also be compatible of any new interest.
Encouraging organisation
Storage in wardrobes provides variations of shelves and space which can encourage organisation and independence within your child; aiding their development for later life. Simple ideas such as creating access to everyday clothes by installing a second lower rod that can be removed as your child grows promotes organisation. Sorting the washing independently will give them a better sense of responsibility and stimulate the development of organisational skills.
Widening play space
As a result of promoting your child's organisation, there may be less mess in your child's room and as a result; more space for your child to play. This will reduce the possibility of slips and trips for your child and creates a safer play space that will boost their physical and mental health; giving you peace of mind. In addition,
sliding wardrobes
can increase space further by helping children store any items they're not using, further benefitting and widening their play space.
To achieve an enduring room that will remain timeless throughout the ever-changing tastes of your child, why not try one of our sliding door wardrobes from our
minimalist range.
"Kids Room" by Jinkazamah is licensed under
CC BY 2.0