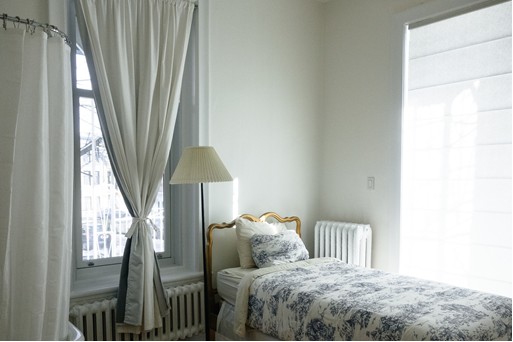 When space is at a premium, bedroom design becomes more about utility over looks. When you've not got much room to work with, you can't afford to go for the big, fancy kingsize and instead must focus on how to make a room look its best without compromising any of the precious space.
Don't worry – we've got you covered with our 10 excellent space-saving small bedroom decorating ideas.
Storage is key
Under bed storage helps you free up lots of the clutter that can accumulate in a room, which can look especially untidy in a smaller bedroom. If the room isn't tiny, you should add a built-in storage space first and design the room around that.
Wardrobes, despite their bulk, provide lots of dedicated storage space so are worth including if you can fit them. It might seem counterintuitive, but if you use a built-in sliding door wardrobe and then decorate around it – you will have less space to work with, but no storage issues once the room is lived in. Sacrificing some living space for a far greater amount of storage ensures the room will be useable for much longer.
Lighting is key
Even the smallest room can seem bigger when it's properly lit. Lighting at all edges of the room will help expand its perception, but many small rooms only have a single window. If that's the case, use overhead lighting with a soft diffuser to create an ambient glow that reaches all corners of the room.
Use vertical space
Often, walls are neglected for any purpose other than to hang pictures. In a small space, walls present a range of options – whether that's a range of hooks to hang your clothing on or shelving to store items. Consider how you can best use your walls to free up floor space.
Combine purposes
Bedside tables can become workspaces if you buy the right style and slide a chair underneath one. A wardrobe with a cabinet in it can house a television, where you simply slide the door open when you'd like to watch it and close it to store it out of sight. Combining the purpose of different pieces of furniture is vital in preserving space when decorating small bedrooms.
Mirror, mirror on the wall
Remember the tip about light? Mirrors reflect and bounce light around a room, meaning they're exceptionally useful in a small room with limited light. They're also thin and take up next to no space, so assuming you have vertical space spare, adding mirrors can expand a room and make it seem bigger. If you choose to install a built-in wardrobe as we have suggested, a mirrored one will massively increase perceived space.
Decide on colours
Small rooms don't have the luxury of being able to spread an abundance of colours around a large space. The smaller nature of the room means colours need to be kept to a scheme to avoid looking too 'busy.' Pick a broad colour scheme early and stick to it – favouring lighter tones to open the room up.
Headboard as storage
Headboards don't have to be basic. You can use yours as a storage space, or build a shelf or cupboard that sits above the head of your bed. This is a simple and effective way to maximise your storage options in a space traditionally ignored.
Hang curtains high
Hanging curtains high above your windows makes a room appear taller. Place the curtain rail higher than the window itself so they hang as long as they can, which will increase the perceived size of the room.
Add a houseplant
Sometimes, smaller spaces can grow stuffy or feel slightly oppressive. By saving space with the storage options we've covered, you can afford to add a large potted plant to a room. This not only improves air quality, but adds a touch of nature to a room that may not have a window big enough to showcase much of the outdoors.
When all else fails, choose white.
While we've already discussed a number of options for colours and layout, it's important to stress the value of white. Painting walls and ceilings white and using a light carpet make a room seem far larger. In fact, of all these tips, this is the one that may add the most immediate value to anyone looking for small bedroom decorating ideas.