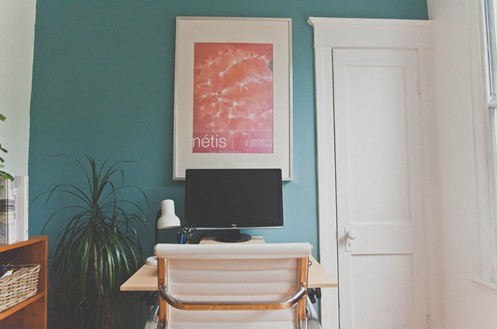 That's where a home office comes in. Trying to meet your deadlines when you're working from your dining table with distraction everywhere can spell disaster before you even start. What if you could build a focused, dedicated workspace that would help you get organised and stay on schedule, all without leaving the comfort of your bedroom?
With a bedroom office, you're making the most of one of the smallest rooms in your house and crafting a creative space in which you can get work done from the moment you get out of bed. However, you run the risk of overcluttering your room and killing productivity if you don't pay attention to details. Here are some top tips to avoid that new office going from something promising to something you ignore...
Let in the light
First and foremost, your office area should be in a brightly lit part of the room. Whether that's directly in front of the window or wherever the light falls best, you want natural light to motivate you.
The desk is key
Even the smallest bedroom can fit some form of desk, and it's an essential part of an office. Try working from your bed for a few days and you'll see just how futile that idea is. Corner desks might be ideal if you're working with less space. Storage is always useful to help keep a room free of clutter and aid your focus, so try and find a desk with drawers or some form of storage.
Stick to the tech basics
It's tempting to buy all the comforts of a corporate office and add them to your home office. However, you don't really need that graphics tablet if you're not a designer – nor do you need two large monitors if you're going to be writing freelance news, or a printer if you work entirely online. Keep things simple, use the cloud where possible to save storage space and stick to the technology you're going to actually need.
Style things up
An office has to put you into the right frame of mind to be productive. Add some motivating design touches that appeal personally to you. From a rug on your chair for colder rooms to a picture of your loved ones on the desk, the joy of a home office is you can include virtually anything you want without fear of other people commenting on your design choice.
One tip that will help you work is to add in some potted plants. There are lots of houseplant varieties that can oxygenate a room and have been proven in studies to increase productivity.
But keep things simple
All this said, simplicity is vital in the workplace. Clutter isn't just distracting, it's damaging to productivity. Invest in wardrobes or underbed storage and keep your room as clear as possible. Make the bed when you wake up and re-enter the room with a cup of your favourite hot beverage in hand with a fresh mind. Your bedroom is a good place to think, but it's also an easy place in which to get lazy. The less clutter and untidiness, the easier it is to concentrate.