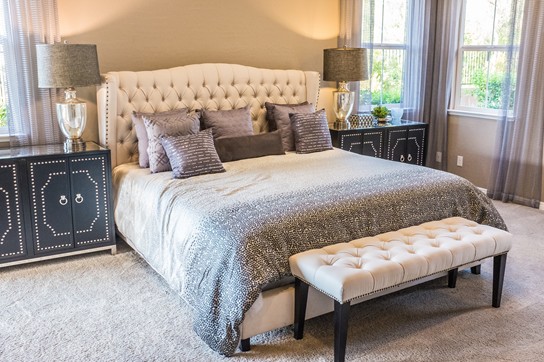 It's the New Year, is it time for a new you? Your bedroom is your space. It's your inner sanctum, where you should feel safe, comfortable and relaxed. If your bedroom isn't helping you feel any of those things, you're missing out on an opportunity to enter 2018 in a more positive place. It's important to remember that 'lighter' isn't just a shade of colour – it's also a way of feeling. If you'd prefer to clear out some space and create a more welcoming bedroom, here are out top tips for creating your own little slice of zen.
Remove clutter
Nothing disrupts a space as much as clutter. In the bedroom, which is typically dominated by a large bed, floor space is at a premium. Clear up discarded clothing, shoes and other clutter and invest in storage solutions to help store them neatly out of sight. Whether that means adding a new chest of drawers, adding under-bed storage or installing a full wardrobe, clearing space should be your number one priority.
It's also vital to remember to clear away any clutter that impacts windows. Move bookshelves or furniture that block light, and head outside to trim away any tree branches that stop the bedroom getting the full benefit of natural light.
Brighten things up
Natural light has wonderful effects on mood. If you're in a room with few windows, consider adding some mirrors to the room to help bounce any natural light into your space. Consider getting rid of curtains, which even when stored away can disrupt light at the sides of a window, and instead install a roller blind, which allows light to shine through the entire window when it is not rolled down.
Your paint scheme will also affect the overall 'feel' of the room. In a bedroom, you're best off sticking to neutral pastel shades as well as whites, greys and light blues or greens for accents. By lightening up the room with paint, it will feel brighter as a result.
Finally, in the evening when natural light begins to fade, use candles to create soft light throughout the room, and then add an accent light from a lamp on an area in your room such as a nightstand or table. Don't point light directly at your bed, as you want that to be an area solely reserved for sleep and relaxation.
Experiment with houseplants
Houseplants can help create a more natural, 'lighter' feeling room. The key is to not clutter a room up with too many plants, instead selecting a few key plants that will help clean the air in the room. Even NASA, the American space agency, loves houseplants – they published a list of nine species that are scientifically proven to filter pollutants from the air. Place any of the below into your bedroom for a low maintenance, highly invigorating way to make your room feel 'lighter'.
Garden Mum
Spider Plant
Dracaena
Ficus
Peace Lily
Boston Fern
Snake Plant
Bamboo Plant
Aloe Vera