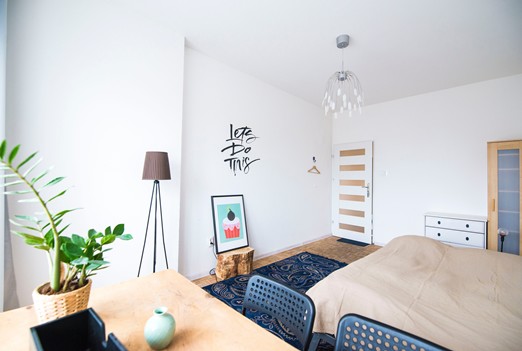 Your bedroom is one of the most important rooms of the house, but it's also the one you often leave til last when redecorating or moving in. The living room often gets the most attention – so you can be left out of pocket by the time you decide to spruce up the bedroom. However, with the right design considerations you can learn how to decorate a bedroom on a budget...
Go big on the bed
The bed is the most important part of your bedroom. You spend almost half of your life in bed, so if you're going to attribute budget to anything, a great bed should come first and foremost. That said, some things to keep in mind include questions such as, do you really need that fancy headboard? Or if you live alone, is it worth the expense for a kingsize? By making little admissions to yourself, you can select an affordable yet comfortable bed. You'll also find good deals on second hand bed frames online, which means you'll only need to shell out for a new mattress.
Invest in Second Hand Chic
As we've mentioned above, sourcing second hand furniture can help reduce costs. However, you can also repurpose natural items to create a more rustic aesthetic in your bedroom. For example, a reclaimed pallet can create a base for a bed. Old, worn furniture can be repainted and brought into your new room. Even driftwood from the beach hung on a wall can create a focal point of decoration.
Small touches, big impact
When it comes to a bedroom, all you really need is a bed and storage space. Everything else is distraction – and some experts suggest omitting electronic devices from your room entirely. That said, it's important to strike a balance. Little touches can bring a lot to a room – fairy lights by your bed, a few candles, a splash of paint – they can all really enhance a room for almost no cost at all.
Get two for one with functional storage
Storage space is vital in a bedroom, whether it's for your clothing or bedding, you need places to store your possessions away. Storage is often expensive, too, but the cost can be mitigated by investing in storage that has a secondary function. Bedside drawers, for instance, can be used as tables. Bed frames that include storage are a great idea. Sliding door wardrobes don't take up much functional space are also a great investment, as they give you more space and are affordable.
Basically, if you are buying storage, only buy storage that can be used for more than one thing – which gives you double the value. With all of the above in mind, you can create a drastically different look in your bedroom at minimal cost.