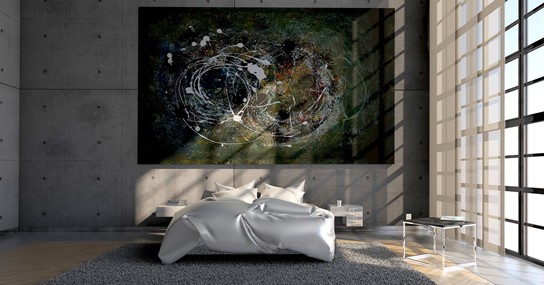 In past articles on our website, we've covered interior design trends such as minimalism, modernism and urban rustic design. However, one of the most confusing design movements is 'Contemporary design.' Contemporary means 'existing, occurring or living at the same time.' The trend began in the late 20th century and aims to create spaces that allow occupants to live firmly in the now. Unlike 'Modern' design, which has clear aesthetic guidelines such as colour popping, neutral tones and straight lines, Contemporary design is more about living in the moment.
Contemporary bedroom design allows you to blend modern technology with classic comfort to create a room that is 'in the now' but still tailored to your taste. Here are some ways to create a contemporary bedroom.
Keep things current
Contemporary design can never be static. The trend is ever-evolving, incorporating new design trends and tastes as they evolve. Use modern fabrics such as silk, wool, linen and cotton. However, add more extravagant touches with geometric patterns in pillows, rugs and throws.
Lighting
A contemporary bedroom should feel open and airy. Keep furniture minimal, but invest in good lighting. Prioritise natural light be opening up windows. For artificial light, keep clutter to a minimum by using floor and table lamps and blend them in to the lines of the room. Lighting should be eye-catching without being too distracting. Think pendant lights, cove lights and chandeliers.
Simple and clean meets modern flair
Blend the 'modernist' style of simple, clean lines in a bedroom with a contemporary touch. Use a colour blocking scheme such as a black bed in a grey bedroom, then add a comfortable, cosy feel with blankets and throw rugs. Typically colour schemes are tone-on-tone, using brown, taupe, cream, white and grey.
Utilise Functional Furniture
One of the key moments of 'the now' is the utility presented by modern innovation. Furniture is more useful than ever – performing more than one function at a time. Use this to your advantage in your bedroom by including smarter furniture such as hidden storage units, sliding wardrobes and bed-based drawers.
Accessorise
While contemporary design prizes 'clean' design, accessories are important. Bring art into your room with bold pillows, exciting accessories and artwork that draws the eye wherever it's displayed.
Ultimately, your contemporary room needs to strike a balance between a clean, modern aesthetic and also the extravagances of the modern age. From current art to trendy furniture, it all belongs in the bedroom when contemporary design is your goal.