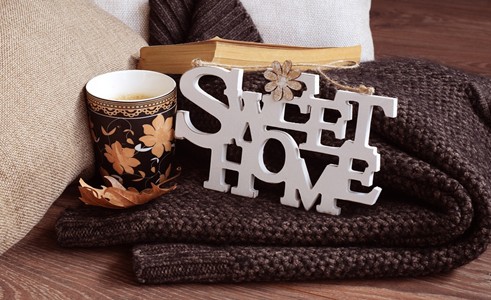 In Denmark there is an institute dedicated to the study of happiness and a Danish state of mind known as 'hygge'. Although there is no direct English translation of the word 'hygge', it is commonly associated with cosiness, comfort and warmth. Perhaps unsurprisingly, those who study this Danish concept are deeply interested in interior design, home furnishings and the way these elements affect our wellbeing and happiness.
One of the key concepts of 'hygge', is that less is absolutely more. Whether you're looking to adapt the lighting in your home, your bedroom furniture or indulge in the simple pleasures in life a bit more, this is an important 'hygge' mantra to live by.
Minimalist Furnishings
Minimalism is an increasingly popular interior design trend and is a good place to start when looking to make your home a bit more 'hyggelig'. Minimalism takes the simple and makes something beautiful out of it, meaning a small bedroom can be transformed into a cosy retreat for you to enjoy. Taking small steps such as installing fitted furniture and wardrobes, using wall shelves instead of bookcases, and buying nested tables instead of one larger alternative are all ways to make the best use of space in rooms such your bedroom. Simple, minimalist furniture choices are highly effective at making any room look cosy, de-cluttered and very 'hyggelig'.
Warmth
It is virtually impossible to experience 'hygge' if you are in a cold room, surrounded by cold-looking furnishings and colours. One person quoted in The Little Book of Hygge by Meik Wiking once described 'hygge' as enjoying a hot cup of cocoa by candlelight, and we think this is something essential to bear in mind when creating your 'hyggelig' home. Warm lighting and wallpaper, candlelight and natural wood furnishings all contribute to the 'hygge' factor of any room you are decorating.
Personalisation
Another advantage of having fitted wardrobes with features such as sliding doors and well-designed storage space, is that you have more space in your bedroom to make it your own. Create a reading corner by your bedroom window, complete with your favourite blankets and cushions, woollen throws and a warm glow from a reading lamp. Just imagine spending hours in the comfort of your personalised bedroom, surrounded by warmth and the 'hygge' that you have created.
Achieving 'hygge' in your home can be done by following a number of simple steps, whilst bearing in mind that the ultimate 'hyggelig' room is cosy, warm, and tailored to you as a person. There is something extremely satisfying about creating a place you can call your own – somewhere you can relax and unwind at the end of a long day. 'Hygge' is something that can be applied to almost anything in life, but when it is applied to interior design and home furnishings, it can help create something quite special.