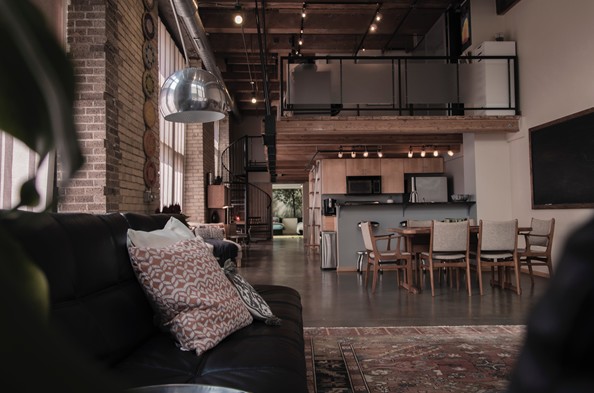 This year we've seen Industrial Chic, an interior design trend once confined to converted lofts and warehouses, extend its reach to leisure and retail facilities, office spaces and homes. Industrial Chic is the epitome of minimalism, combining both simplicity and style. This trend uses modern construction materials to create an attractive aesthetic very in-keeping with urban life. But how can you achieve it in your home? Follow these simple steps to creating an Industrial Chic vibe in one of the most important rooms in your house: the bedroom.
Industrial Materials
What materials do you think when you think of British industry? For us, wood, iron, copper and steel spring to mind. Raid your local charity or antique shop to find some aged wood furniture, including coffee tables and desks. Add something modern such as a mirrored wardrobe with sliding doors for ease, simplicity and style! Exposed brickwork is an increasingly popular feature in properties looking to hit the Industrial Chic nail on the head. Why not expose that warm, wooden flooring you've been hiding away with carpet for all these years? Complement all of this with some metallic light fittings and a copper bed frame and you're well on your way to Industrial Chic greatness.
Shabby Chic Colour Schemes
Industrial Chic interior design borrows a lot from the better-known shabby chic style when it comes to colour schemes. For your walls and soft furnishings, think whites, creams, greys and beiges, which will work well with the exposed brickwork and metallic aspects of the room. To inject a bit of colour into your Industrial Chic masterpiece, there's no harm in adding a few plants or bits of foliage into the mix – it will add to the overall natural effect of your bedroom.
Minimalism and Simplicity
When looking to incorporate Industrial Chic into your home, it's best to get into a minimalist mindset first. This style of interior design is all about taking the plain and simple, then putting it all together to create something inspiring and stylish. Less is definitely more - and you can make much more of a statement with a few, casual pieces of furniture than by overloading your room with 'bric a brac' and all sorts of trinkets. As well as usual bedroom essentials such as a bed and a wardrobe, try accessorising your room with interesting, industrial-style light fittings and perhaps a heavy hardware desk.
To inject the perfect Industrial Chic vibe into your room, it is essential to maintain one ethos: simple and industrial. Forget loud colours, patterned wallpapers and glitterballs, because this is a sophisticated style that will never go out of fashion.