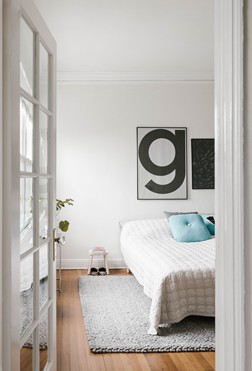 Summer is just around the corner, but why wait? You can redecorate a room ready for the warmer season – and keep it that way even once summer is over to ensure it always feels like the sun is shining. With the right colour scheme and some choice modifications to your bedroom, you can capture the spirit of summer right here in your home. Follow these tips for creating a summer-inspired style you can enjoy all year round.
Use summer-inspired tones
There's no better time than summer to start with a fresh lick of paint. Light pastel tones can help brighten up a room and look fantastic in time for summer. Aqua, turquoise, teal and pastel green all help create a more natural look that emulate the sea or greenery respectively. However, don't be afraid to use really exciting colours such as ice cream pinks or blues. White walls are also a classic option to brighten things up.
Incorporate natural wood
Wood is a natural, earthy material that grounds a room in natural style. Consider using wooden flooring to bring the material into a bedroom without compromising on space. Oak, teak and maple can give a room a rustic feel, especially when paired with the lighter colour palette in our previous suggestion.
Wood can be cold, however, so throw in some bright, summer-inspired rugs to keep your feet warm all year round. Tropical prints work well here.
Open things up
It's important to give windows as much room to 'breath' as possible by removing heavy curtains. Replace them with either a pull-down shade or minimalist curtains. If you've got the budget, consider replacing thick-framed windows with thinner ones to really maximise the light. Mirrors help bounce light around the room, but also take up space - so consider adding one in the form of a mirrored wardrobe to provide both utility and light.
Finally, invest in a high-quality lamp to keep light levels high once summer retreats. You could even consider using a light therapy lamp to help keep emulating the ultraviolet light of the sun.
Create a 'breezy' aesthetic with accessories
Once you've nailed the colour scheme, it's all about accessorising. Summer tones mean light fabrics such as light throws, fringing, tufting, tassels and even feathers to create an almost handmade aesthetic. Foliage is always key in a room inspired by seasons, so invest in evergreen houseplants. If you're not sure you can keep them alive, don't be shy about synthetic houseplants – they'll still help you achieve a summery look.
With just a few of these touches, you can help turn your room into a summer-styled retreat and enjoy happiness all year round.