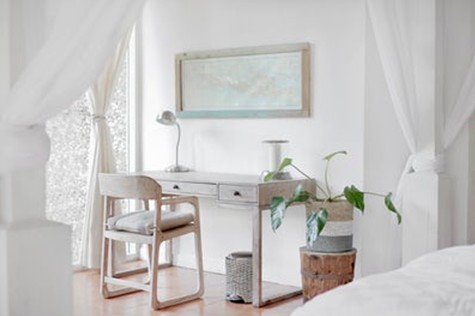 Instagram has been flooded by influencers sharing their perfectly tidy, perfectly 'accessorised' bedrooms, making the rest of us extremely envious! But don't let your social media envy get the better of you – there are a few small tweaks you can make. We did some research to find out the best ways to create an Instragram-inspired bedroom.Follow our top tips and with any luck you'll be on your way to Instagram fame very soon!
Utilise Your Space
A cosy, minimalist look is the foundation of any Instagram-worthy bedroom. You would never see an interior designer or blogger post a picture of a messy, cluttered room. It's so important to organise and utilise your space effectively! One way to do this is to invest in storage solutions such as fitted, sliding-door wardrobes which allow you to take advantage of as much space in your bedroom as possible.
Partner your sliding-door wardrobe with a statement bookcase, in which you can house all your books and odds and ends. A decorative bookcase can become the centrepiece of any bedroom and it's a good opportunity to show the people of Instagram your personality.
Accessorise, Accessorise, Accessorise
Your bed is undoubtedly the most important feature of your bedroom and you really need to get it right for the ultimate Instagram picture. Go for light-coloured bedding options, with a chunky-knit throw in a beige or taupe colour. The best bedrooms on Instagram have a 'perfectly imperfect' look about them – achieve this by adding a mismatch of fun cushions on your bed. This will not only add a splash of colour to your room, but it will help you achieve the cosiness of so many bedrooms we see on Instagram.
Got a desk in your bedroom? Be selective with your desk accessories and most importantly, make sure they match! We've seen a lot of rose gold stationery around lately and we think that these types of accessories are the perfect addition to your Instagram-worthy bedroom. Pick up a rose gold stationery organiser for your desk, a statement desk lamp and some funky coasters for your cup of coffee, and you're good to go!
Add Some Plant Life
It's surprising how much life a plant or bunch of flowers can bring to a room! Cacti in beautiful shades of green have been very popular recently – pick up a few different sized cacti and place them around your bedroom.
Not only are plants extremely fashionable in the Instagram and interior design worlds, but they are also very practical! Studies suggest that plants such as Jasmine and Lavender emit soothing properties that help you sleep at night. So now, you can become an Instagram guru, interior design master and get a better night's sleep all in a single day!
Let There Be Light
It's no secret that natural light is the key ingredient to a breezy-looking, attractive bedroom. Make the most out of the light coming in from your bedroom window and adorn your walls with decorative mirrors that will reflect the natural light in your room and ultimately make it look bigger. You could even treat yourself to a mirrored wardrobe to free up some space and achieve a lighter and brighter look at the same time!
Steer clear from harsh or clinical 'daytime' lighting options and opt for bulbs and fittings that offer a softer glow. String up some tasteful fairy lights around your bed frame – these will enable you to snap the perfect night-time picture in your double tap-worthy bedroom.
Enjoy creating a beautiful bedroom fit for Instagram!