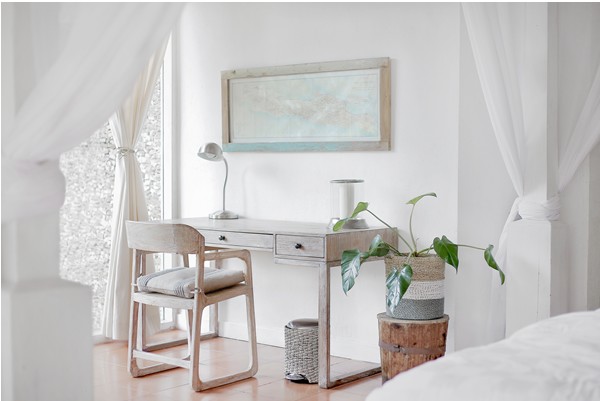 After the BBC aired Blue Planet II, which showcased the enormously harmful effect of pollution on our planet, the British public's interest in search terms such as 'climate change' and 'plastic recycling' surged. As more people look to cut their impact on the environment, here are some ideas to help you create an eco-friendlier home by cutting down on waste.
Invest in hardwearing organic furniture
The more durable an item in your home is, the less likely you are to throw it out. Investing in natural materials such as glass and oak means you benefit from long-term durability as well as the ability to recycle furniture when you decide to redecorate.
Rework/restyle existing furniture
Often during a redecorating process, you're tempted to get rid of existing furniture and start again. For a more eco-friendly approach, why not try restyling older furniture – either by giving it a lick of paint or by dressing it up in throw rugs.
Examples include turning a storage divan into a plush seating area with a new paint job and some pillows, converting an old makeup cabinet into a work desk or even using the frame of an older bed to create a miniature sofa. The possibilities are endless – but all are more environmentally friendly than creating new waste.
You can also 'upcycle' older furniture you find on websites such as preloved or gumtree – giving dated, unwanted furniture a new home and avoiding another item being added to a landfill.
Invest in plants
Adding plants to a home doesn't directly increase your eco-friendliness, but it does remind you of the importance of the environment and grants a number of benefits including better mood and better air quality. If your home struggles to sustain indoor plants, choose succulents such as cacti to generate the same effect without worrying about temperature and light levels.
Redefine lighting
Lighting can be a drain on your home's energy efficiency – but you can address this by using energy-saving bulbs where possible. However, if you can redecorate a room to increase natural light, you can do away with artificial lighting and instead enjoy more natural lighting that costs nothing and also helps heat a home.
Consider materials
When decorating an eco-friendly room, it's important to consider the materials you're using. It's no use following all our tips above then choosing paint, products and carpets that have high VOC (volatile organic compound) content. Choose organic, eco-friendly solutions where possible.