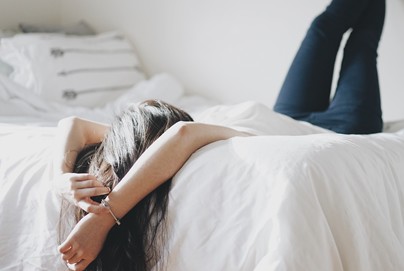 Our bedrooms are commonly used as our sanctuaries – a place of rest, relaxation and slumber. As we spend so much time in our bedrooms, it only seems fitting that the décor, furniture and ambience of the room reflects us as individuals. How do we do this?
Personalisation – defined as the act of giving human or personal qualities to something – is the perfect way to make your bedroom more reflective of your personality, likes and dislikes. We've come up with 4 simple ways of making your bedroom more personal, and in doing so making it a more comfortable, restful space for you to enjoy.
Select Your Favourite Furniture
When you walk into your bedroom, you want to be able to look around and smile. The best way to do this is to choose statement pieces of furniture that you love to fill the room. Nobody wants to relax in a messy, cluttered room – in fact, we think it's almost impossible to! Fitted furniture, including fitted wardrobes with sliding doors, significantly increases your storage and floor space, giving you more room to be creative and expressive with your bedroom's interior design.
Whether you like the sound of a White Glass Minimalist Wardrobe, a Maple Wood Shaker Wardrobe or an Aubergine Glass Classic Wardrobe, the most important thing to remember is to choose furniture that you really love and suits your personality and style.
Choose Your Colour Scheme Wisely
We all have our favourite colours, as well as those colours that we avoid at all costs! When it comes to painting and furnishing your bedroom, it is crucial to choose colours that will please you and bring you a sense of peace. Loud, statement colours should perhaps be saved for another room in your house – that is, unless you think bright yellow or hot pink describes you well and will bring you immense happiness!
At the end of the day, we all want a bedroom that will ease us into relaxation – try soft, soothing shades such as lilac, lavender and light grey, or perhaps pastel blue or green. You'd be surprised at how easily a colour scheme can influence how you feel or think when you walk into a room! Choose your colour scheme wisely and enjoy a calming, cosy bedroom.
Add Character
From an interior design perspective, the best way to add character to a room is with textures! Bring a little depth to your bedroom and complement your favourite furniture styles with accessories, textures and interesting designs.
Plain bedding? Why not add something special with a chunky knit throw in grey, cream or pastel? Not only will this add another dimension to your bedroom, but it'll show a bit of character – everybody likes tactile interior design!
Share Your Memories
There is no better way to showcase your personality than through photographs and paintings! Invest in a few photo frames and fill them with your favourite photos with friends, family and points in your life that are particularly memorable and important to you.
That time you reunited with school friends at the beach, that family wedding last year, your favourite holiday picture – whatever the memory, hang it up in your bedroom to make the room personal to you and a joy to spend time in.
Enjoy making your bedroom the haven you've always wanted it to be! For more information on the styles of sliding door wardrobes we offer, please visit
this page
on our website.