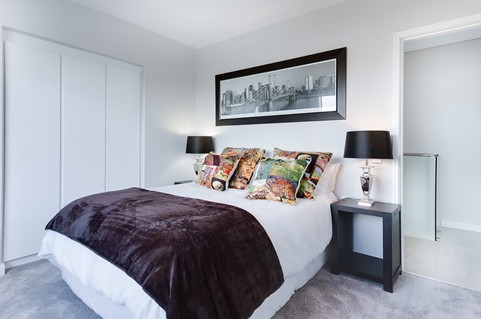 Fitted Wardrobes
When your bedroom is on the small side, even the shallowest of closets and wardrobes can take up valuable floor space, and make your room seem even smaller than it is. Why not free up a bit of room with a fitted wardrobe such as the beautiful Glacier Super Matt White and Fjord wardrobe? Install a fitted wardrobe into the walls of your bedroom and avoid that cluttered, claustrophobic feeling you get when a wardrobe is the main, dominating focal point of a smaller room.
Sliding Door Wardrobes
In compact bedrooms, you can't afford to even give up a centimetre of space unnecessarily. Fitting a sliding door wardrobe means you won't have to open up doors into the floor space of your bedroom – avoid reshuffling furniture and moving things out of the way purely to get into your wardrobe with this handy style.
Matching Colour Schemes
After you've selected your fitted, sliding door wardrobe, ensure the colour of the doors matches that of your walls – this will give you a finish that is almost invisible! The transition from wall to wardrobe door will be virtually seamless, making it seem like the walls of your bedroom go on forever. Purple or maroon bedroom walls? Opt for our Aubergine Glass Classic Wardrobe. More of a neutral colour scheme with white walls? Our White Glass Minimalist Wardrobe will fit in perfectly.
Hidden Storage
You'll all have heard of under-bed storage, but have you actually got it in your bedroom at home? Fill the cavity underneath your bed with all those things that were previously cluttering your room – there's never a bad time for a spring clean! Call in the carpenters and turn those awkward corners and wall cavities into shelved areas or storage spaces with clothes rails. It really will make a difference to how your bedroom looks and feels.
Take a look at our full range of sliding door wardrobes
here
.