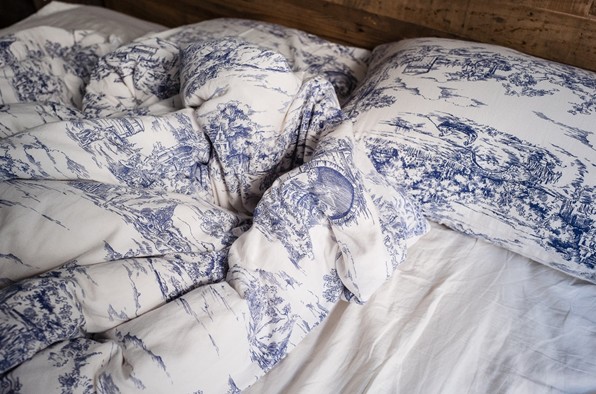 We all know someone who suffers with sleeping problems or insomnia. Whether it's you, a family member or a colleague, there are always factors in our life preventing us from getting the best night's sleep possible. When everyday stresses and problems take over, our minds and bodies start to crave a better night's sleep. But is there anything we can do, that doesn't involve medication, to improve our sleeping pattern?
Research from organisations such as the Sleep Council shows that re-evaluating the design of your bedroom can in fact improve the quality of your sleep. Factors such as the colour scheme of your interior design, the type of bed you have and the way you utilise your space, can all have a significant impact on your sleep.
Colours
There are two words to bear in mind at all times when selecting a colour scheme to help improve your sleep: neutral palettes. Embrace attractive shades of white/cream, beige and taupe, or even perhaps lavender and soft, powder colours. These colours offer a sense of serenity and bring calm to your bedroom.
Interior design experts often decorate their own bedrooms in soft pinks and greys, with soft textures, in order to create their own personal haven for sleep and relaxation.
Bed
It may seem an obvious thing to say, but the type of bed you have really does affect the way you sleep! You don't need to spend hundreds of pounds on a luxury, bespoke bed to be comfortable at night. What you do need to consider however, is investing in a good-quality mattress that you've tried and tested. Perhaps also purchase a mattress topper for extra comfort and sleep blissfully from now on.
Cocoon yourself in bedding that encourages slumber and doesn't distract you from it. This involves choosing colours that match your bedroom's soft colour scheme. Cosy, homely fabric throws and soft cushions will make your bed a much more attractive place to be.
Space
The reality is, you're not going to sleep well at night if you're surrounded by clutter in your bedroom. From stacks of books, to piles and clothes and dirty dishes, there's a whole host of opportunities for mess. A clutter-free bedroom means a clutter-free mind and you'll sleep much better if you're not constantly thinking that you need to tidy your room – get it done before you go to sleep and drift off worry-free!
Invest in a sliding door wardrobe from The Sliding Door Wardrobe Company and never have to worry about storing your belongings again – organise them in the ample storage space inside the wardrobe and enjoy a well-earned sleep in your calm, tidy bedroom.