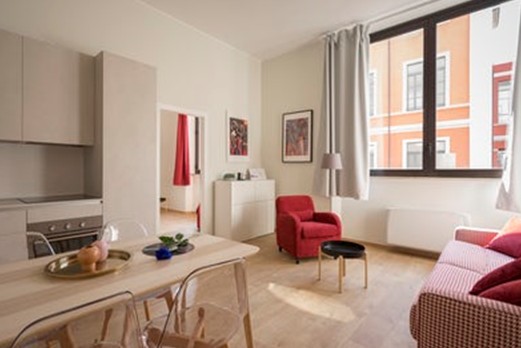 But colour is so much more than a decorative element, it's an expression. It can bring a specific ambience to a room or have a specific effect on you and your visitors.
Of course, you can take any colour or any combination of colours and decorate any room of your home in any way you would like, but, if you're looking for a little help choosing colours, we've put together a little list of a few, and the reason you might want to use them in a certain room.
Green
Green is often associated with nature and can represent growth, freshness and harmony. Green can have a calming effect on you, and so it could be a great colour for a living room or a bedroom, where a lot of relaxing happens. Try mixing it with browns and creams to enhance the natural aesthetic.
Yellow
The colour yellow immediately makes us think of the sun or flowers, encouraging us to feel happiness. It is bright and energetic, which is why we think it could work really well in a child's bedroom.
Red
Red – the colour of passion, love and romance. Perfect for a bedroom! Because it is so bold, it can be an intense, overpowering colour, so it might be a good idea to use it on a feature wall, in your soft furnishings, or even in a customised wardrobe from the Sliding Door Wardrobe Company. Perhaps use it with whites and golds for a more opulent look.
Blue
Like green, blue is a very natural colour as it is the colour of the sea and the sky. It can often induce feelings of depth and stability. Different shades of blue work best in different situations. A light blue, for example, can be utilised in almost any room due to being representative of tranquillity and softness.
Purple
Purple has associations with royalty and luxury. It is another good option for a bedroom, mixing well with creams and silvers.
White
Being the colour of cleanliness, white is a good option for a kitchen. It works well with all other colours, and can bring brightness to a room, making its inhabitants feel calm and happy.
Black
If used incorrectly, black can make a room seem darker, however, if it is used subtly, it can bring feelings of power and elegance. Why not mix it with white for a chic monochromatic look in your living room, or with yellow, for a fun bumblebee inspired child's room.
There you go! Hopefully we've made choosing colours slightly easier for you. Now why don't you check out the Sliding Door Wardrobe Company's interactive wardrobe builder, where not only can you choose the colour of your new wardrobe, but the style, the number of door, and so much more!