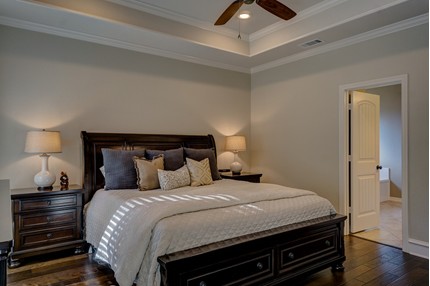 It's more than likely that your ideal aesthetic aligns with an interior design or theme – we've put together a little guide to our favourite, most common interior design styles for you. Take a look:
Modern
Modern interior design is a fairly broad design term, with which many of you will be familiar. But what does it actually refer to?
If your home has a simple colour palette, made up of greys, whites and creams, it is likely that you have incorporated a key aspect of modern interior design. This style exudes simplicity in its colour scheme, furniture and raw materials. Clean, crisp lines and an absence of clutter and home accessories characterises this elegant interior design.
We think that our White Avola Wood and Mirror Classic Sliding Door Wardrobe is the perfect accompaniment to any room that employs this style of interior design. The neutrality of the white and mirror panels complements the straightforward beauty of a room decorated and furnished in a modern interior design style.
Minimalist
Take the notion of modern interior design, take it one step further and you have minimalist interior design! Simple, streamlined and sleek are three adjectives that come to mind when we think of minimalist design.
Mesh together neutral colour palettes with functional yet elegantly attractive furniture to achieve this sought-after look. Avoid overcrowding your room with unnecessary and flamboyant accessories that serve to detract from the minimalist theme – stick with functional furnishings and definite, sharp lines throughout.
Our White Glass Minimalist Sliding Door Wardrobe epitomises minimalist interior design – it's sleekness and definitive edges make a striking statement in any room, helping you create a wonderful, minimalist aesthetic.
Traditional
Traditional interior design incorporates rich, dark woods coupled with the most sumptuous of furnishings. Think a mahogany dressing table placed in front of sash windows cloaked in oxblood red velvet curtains – definitely a strong example of traditional interior design.
If we were to use adjectives to describe traditional interior design, we'd most likely use: rich, full-bodied and textured. If this is the look you're going for, ensure you use a variety of different textures and utilise fabrics that showcase contrasting patterns and designs.
Our Walnut Wood Shaker Sliding Door Wardrobe is one of the most popular choices in our range, but it's hardly surprising given its versatility and ability to blend in with the deep, rich colours and textures of a room outfitted in traditional interior design.
Hollywood Regency
Hollywood Regency, or Hollywood Glam, as you probably can tell from the name, is all about luxury and opulence! If you like interior design that packs a punch and brings a sense of drama to your home's aesthetic, then this is most certainly the interior design style to suit you.
Velvet is once again a strong feature in this style, with glitzy accessories and antiques that give off that Hollywood vibe. Bold colours such as black, gold, purples, reds and forest greens feature heavily.
Our Black Glass Classic Sliding Door Wardrobe wouldn't look out of place in a high-end Manhattan apartment, or in a Beverly Hills mansion. The reflective nature of the black glass will make your room look even bigger than it already is without changing its dimensions, whilst the black colour itself exudes mystery and luxury.
Browse our full range of sliding door wardrobes on our website and discover which style will best suit your interior design.