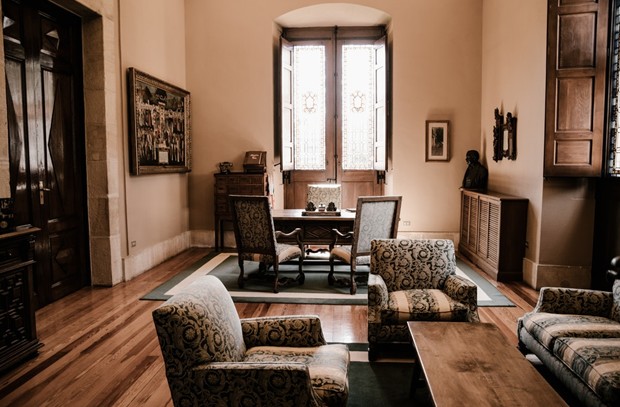 In fact, we think brown can be as fresh and exciting as any other colour! So, here are the benefits of brown interior design:
Aesthetic Benefits.
In terms of how brown looks in the home, there are absolutely tons of benefits.
As a neutral colour, brown has been a staple in our houses for a while, probably without us realising. Think about it. You've probably got natural wooden floors or a brown leather couch somewhere.
There is something very traditional about brown. It is demure and classy. A warm and earthy tone, brown is a very cosy colour, a timeless classic. Because it is the colour of the earth, it can make us feel grounded, stable and secure.
If you want to add brown to your home, but don't quite fancy painting every one of your walls in the colour, consider adding a piece of brown furniture like a mirror with a wood frame, or a wooden hinged wardrobe from the Sliding Door Wardrobe Company.
Try mixing brown with green if you really want to bring the outside indoors and have a nature theme in your home, or with cream, if you want to live in a rich, warm, calm space.
Practical Benefits.
As well as all of these benefits, brown can also be a very practical choice to incorporate into the rooms within your home.
If you've got kids, you'll know that, no matter what, they have a strange ability to become messy. When you've got a brown carpet, or a brown couch, you won't have to worry, as the colour can easily hide small grubby fingerprints and the odd felt tip stain!
And it isn't just kids who spill things, we all have clumsy moments and spill a drop of wine. With brown interior furnishings, these minor errors will be hidden.
Additionally, since brown is such a classic, staple colour, it won't be going out of style any time soon so you won't have to redecorate to keep up with the latest trends. This will save you both time and money!
So, whether you want to paint your entire home brown from top to bottom or just add a splash of brown with a brown sliding door wardrobe from the Sliding Door Wardrobe Company, know that it definitely is not a boring colour!