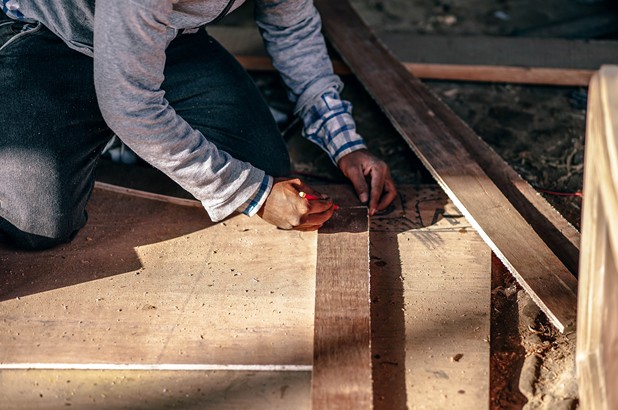 After ordering your new sliding door wardrobe, you probably await its arrival eagerly! Then when it finally gets installed in your room, you can finally organise your belongings in the perfect way. But what happens to your wardrobe during your wait? How is it made?
All wardrobes are different and so the process may vary, but generally there are three distinct phases:
Designing
The design segment of your wardrobe journey is one which is led by you!
When you've decided you want a new wardrobe from the Sliding Door Wardrobe Company, you have several options. You can come along to one of our showrooms to see our wardrobes in person, we can send you samples to peruse, or you can design your perfect wardrobe from the comfort of your own home, using our Interactive Wardrobe Building feature.
After this, you will organise a design visit, which usually last about 45 minutes, where your space will be measured to make sure your new wardrobe will fit perfectly. At this visit you might also discuss your wardrobe interior requirements.
Building
Once a wardrobe has been designed, it's time for it to get built!
At this stage the frame of the wardrobe is constructed, and the chosen woods, along with any glass panels, are measured and cut to size for the doors and sides.
At the Sliding Door Wardrobe Company, each wardrobe is made with the highest quality craftmanship, so safety glass is used to drastically reduce the chance of injury, should it smash.
After this, any shelves are constructed too. And the whole wardrobe is varnished.
Fitting
After your dream wardrobe is ready, it is safely packed up and carefully transported to your home.
With the highest levels of care and attention, your wardrobe is then fitted, slotting perfectly into the premeasured area.
And voila! Your new sliding door wardrobe is ready to be filled up with all of your clothes, or whatever other belongings you might want to store in it.
The majority of the wardrobes sold at the Sliding Door Wardrobe Company are made within four weeks of the order being placed and fitted in just one day!
Order your new fabulous wardrobe today!